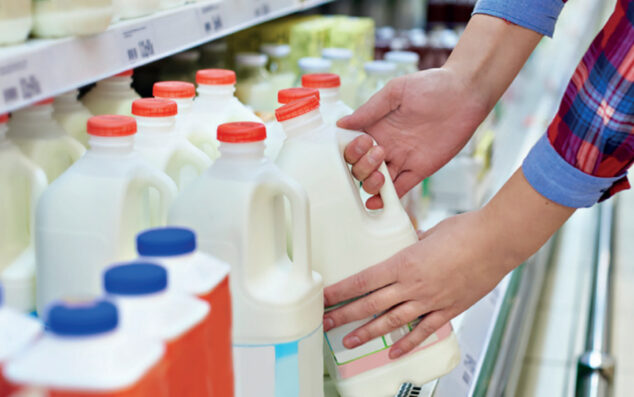 Small shops are taking action to stem the impact of milk price increases driven by rising production costs and the impact of driver shortages.
Freshway is the latest supplier to announce price rises, with a letter sent to convenience stores last week announcing a 5% hike in order "to maintain a sustainable business". It blamed driver shortages brought on by Brexit as well as increased packaging costs.
Data collected by betterRetailing from 20 convenience stores supplied by 10 dairies reveals an average 4.6% wholesale price increase on one pint since the start of 2021, outstripping the government's estimated 3.9% increase in farmgate milk prices over the same period.
Despite the 20 stores having, on average, two price rises in the past eight months, many initially absorbed the increases but are now taking steps to protect margins from further erosion.
Supermarket shortages create 'massive opportunity' for local shops
Pritpal Dale, owner of Toothill Convenience Store in Loughborough, uses Freshway as his milk supplier. He told betterRetailing that when he was informed of the potential increase he spoke to his local depot and was able to negotiate a better price.
He said: "They have dropped the price to 80p for a litre. I can keep the price at £1 while retaining my regular customers who want to support us but they have told me that if prices go up, they will go to the Tesco down the road.
"My advice to anyone would be to talk to local depots before anything else. Quite often they don't want to lose regular customers so they can budge on prices if you ask nicely."
Barjinder Singh, coowner of Singh Brothers Convenience Store in Doncaster, uses Elmfield Dairies Doncaster as his supplier and told betterRetailing that he was also able to successfully negotiate down the price rise.
He said: "We got quoted 94p for our 4-pints, but our supplier knows that we charge two for £2, so we got it lowered to 90p after talking to them, so we haven't lost any money. Our supplier wanted to keep our business and didn't want us to lose customers, so they lowered the cost."
Labour shortage forces stores to rethink staffing models
Ferhan Ashiq, who runs Day-Today Ashiq's in Prestonpans, uses Graham's as his milk supplier and has seen three price increases this year, with an average increase of 3p for one pint of milk, 6p for two pints, and 12p for four pints.
He said: "There was a time when I used to take the costs in, but I have to increase my price now. I have to add 20% to the cost of the milk. Every time there has been an increase, I have increased my prices by 20% as well."
The data collected by betterRetailing also showed the potential savings related to switching suppliers, with as much as a 14p difference on a pint carton between the most and least expensive major dairies.
Read more retail industry news for independent convenience retailers