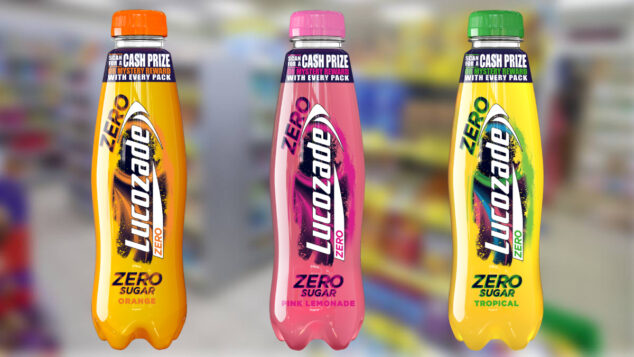 Suntory Beverage & Food GB&I (SBF GB&I) has launched Zero Losers, its first-ever on-pack promotion across its Lucozade Zero range, guaranteeing a prize with every entry.
To enter, shoppers scan an on-pack QR code to receive one of many instant prizes. There is a top prize of £5,000 cash for 10 shoppers, smaller prizes of £250 and £20 are available, as well as a free bottle of Lucozade Zero among others.
The promotion also offers retailers a chance to win prizes, with a top prize of £500 as well as a guaranteed free case of Lucozade Zero to every entrant.
For consumers, the promotion runs across 500ml, 4x380ml (excluding Orange) and 900ml (Pink Lemonade only) formats.
Lucozade expands Alert range with Original variety
To enter, retailers should email SBFTrade@hanovercomms.com with their full name, store name and address by 26 September.
Zoe Trimble, head of Lucozade Energy at SBF GB&I, said: "We know that zero-sugar drinks are driving growth within the soft drinks category; in fact zero/low calorie carbonated soft drinks now make up 60% of total sales. This means there is a huge opportunity for retailers to attract even more consumer interest in this growing segment through this bespoke new promotion."
SBF is supporting the promotion with an out-of-home, radio, PR, social media and in-store campaign which aims to reach 89% of adults at least six times.
Read more product news