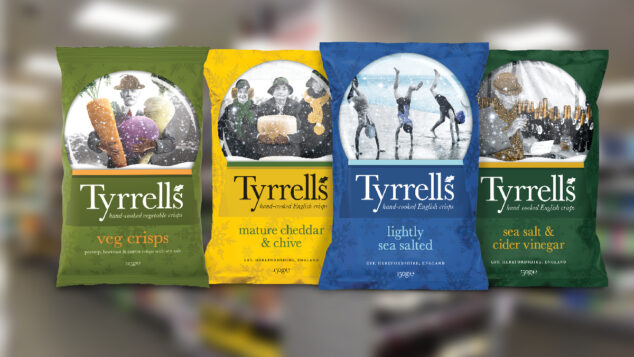 KP Snacks has announced the launch of limited-edition Christmas-themed packaging across its premium snack brand Tyrrells.
Available from the beginning of October, the packaging will be available across the following Tyrrells Hand Cooked Crisps and Veg Crisps sharing bags varieties: Mature Cheddar & Chive, Sea Salt & Cider Vinegar, Lightly Sea Salted, Sweet Chilli & Red Pepper, Sea Salt & Black Pepper, and Mixed Root Veg with Sea Salt.
KP Snacks to launch new British Beef & Ale flavour Tyrrells crisps
The festive sharing bags will have an RRP of £2.29 for 150g Hand Cooked Crisps, and £2.50 for 125g sharing bags of Veg Crisps.
Currently, Tyrrells has a retail sales value of £55.5m, with a 13.9% share of the premium crisps and snacks market. It is also growing in value at 14.5% this year.
Walkers teams up with Ghostbusters: Afterlife for on-pack promo
Overall, sharing is worth £1.3bn in crisps, snacks and nuts, growing at 6.2%. In December alone, the category is worth £300.1m, and suppliers are anticipating a big demand with the likelihood of eased restrictions over the festive period compared to last year.
Beth Minch, marketing manager of Tyrrells, said: "Tyrrells is the perfect premium snack to share with family and friends over the festive season, with taste and quality at the heart of the Tyrrells offering. Our quintessentially British crisps range is perfect for any premium sharing occasion, with many shoppers looking to trade up over the Christmas period. Tyrrells has performed extremely strongly in premium crisps and snacks.  The Christmas makeover will deliver a premium and special consumer snacking experience whilst growing sales."
Read more crisps and savoury snack product news