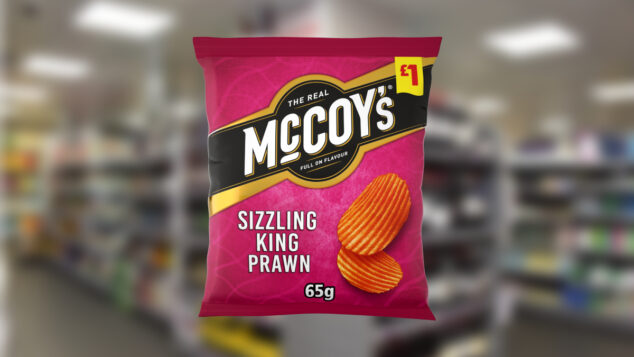 KP Snacks has launched a new £1 price-marked pack (PMP) of its McCoy's Sizzling King Prawn variety.
The launch makes the new PMP the supplier's 25th member of its £1 PMP range.
It comes as McCoy's is the UK's number one ridged crisp brand, with a retail sales value of £145.9m and growing at 11.2%. The brand's £1 PMP range is outperforming market growth at 33.8% compared to the market at 8.3%.
KP Snacks extends £1 PMP range to Tyrrells crisps
Within this category, prawn is the fastest growing flavour, with its 10% growth outpacing the category's 2.7% growth.
Matt Collins, Trading Director at KP Snacks, said: "McCoy's is a leader in crisps, snacks and nuts, synonymous with tasty snacks and exciting NPD. We are thrilled to be launching McCoy's Sizzling King Prawn in the increasingly popular £1 PMP format. As we continue to expand our extensive £1 PMP portfolio, which is already outperforming market growth, we are focused on identifying the perfect flavours and brands to boost sales for retailers.
"McCoy's is one of the top five £1 PMP ranges in the category and the new launch will excite shoppers by delivering a favourite flavour in a format that is trusted to provide excellent value".