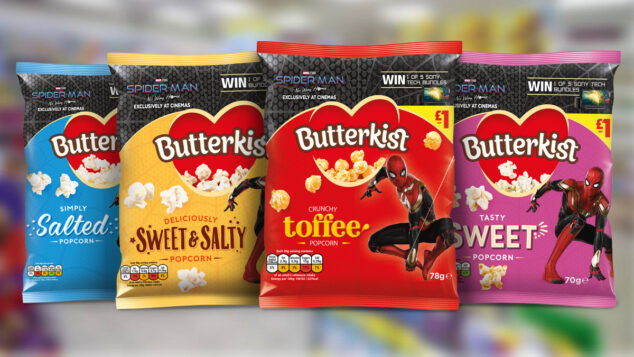 KP Snacks has launched an on-pack promotion across its Butterkist popcorn brand with the upcoming film Spider-Man: No Way Home.
The promotional packs feature images of the titular superhero and offer shoppers the chance to win prizes by purchasing a pack.
Available from 22 November until mid-February 2022, the promotional packs will be available across sharing bags of Tasty Sweet, Deliciously Sweet & Salty, Simply Salted and Crunchy Toffee varieties, as well as £1 price-marked packs (PMPs) of these varieties.
KP Snacks expands Butterkist with Orange Chocolate flavour
Shoppers have a chance to win one of five Sony tech bundles. Each bundle includes a Sony Bravia 65-inch smart TV, a Sony All-One Sound Bar and Sony headphones.
The promotion has launched as popcorn is worth £139.8m, growing at 6.1%. According to KP, Butterkist is worth £52.5m and is in 5.1% growth, with a 37.4% market share making it the UK's biggest popcorn brand at more than twice the size of its nearest branded competitor.
Walkers teams up with Ghostbusters: Afterlife for on-pack promo
Kevin McNair, marketing director at KP Snacks, said: "The new Butterkist promotion aims to capitalise on the growth of popcorn sharing occasions (+21%). The promotion is perfectly positioned to disrupt shoppers, broaden Butterkist's appeal and bring new shoppers to the category.
"Driving category penetration by focusing on the fun and excitement of a big theatrical release, a well-loved character and the opportunity to win big prizes, the campaign creates a valuable opportunity for retailers to drive growth in popcorn."
Read more product news