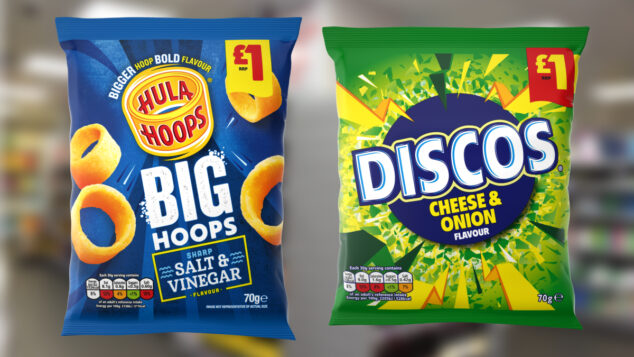 KP Snacks has continued to expand its £1 price-marked pack (PMP) range with the addition of Hula Hoops Big Hoops Salt & Vinegar and Discos Cheese & Onion.
The additions come as Hula Hoops is worth £155.4m and is growing at 10.8%. Meanwhile, Discos is worth £16.4m, but is seeing 39.1% growth.
KP Snacks makes McCoy's Sizzling King Prawn its 25th £1 PMP
Overall, KP Snacks' £1 PMP range is worth £67.6m and is growing at 12.2%, according to Matt Collins, trading director at the supplier.
"As we continue to expand our extensive PMP portfolio, we are keeping retailers at the forefront of our decision-making by selecting the top flavours and brands that we know will drive sales," he said.
Read more product news