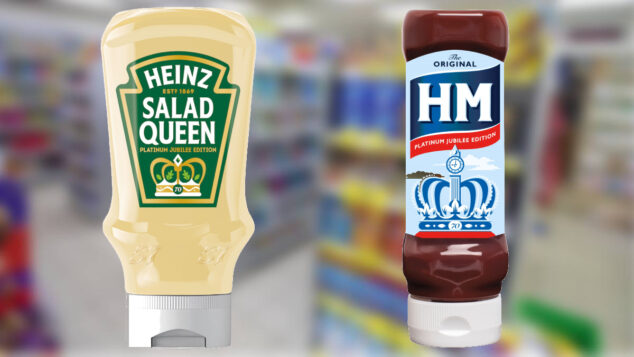 Kraft Heinz is renaming two of its popular condiments, Heinz Salad Cream and Heinz HP Sauce in celebration of this year's Platinum Jubilee.
From 3 May they will be available as Salad Queen and HM Sauce while stocks last.
According to recent research 48% of British shoppers say that the Jubilee will present a good opportunity to eat more British foods.
Cadbury to launch commemorative Platinum Jubilee packs of Roses and Dairy Milk
Anke von Hanstein, senior brand manager for Heinz Sauce, said: "Heinz Salad Cream and HP Sauce are two cupboard staples that have remained firm consumer favourites over the decades.
"HM Sauce and Heinz Salad Queen will be at the centre of Jubilee parties, picnics and parades, celebrating all-things British over the Bank Holiday weekend. This is a great opportunity for our retail partners to capitalise on the occasion and uplift sales of best-selling brands, HP Sauce and Heinz Salad Cream."
Read more Platinum Jubilee news and products