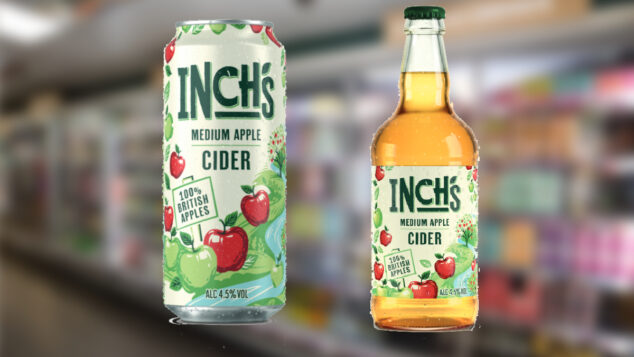 Heineken UK has launched Inch's, a new apple cider with sustainable credentials, in what it is calling its biggest ever cider launch.
Available now across convenience and wholesale, Inch's will be available in 500ml bottles, 4x440ml cans, and 10x440ml cans.
According to the supplier, the vegan-friendly and gluten-free cider is made from 100% British apples grown and sourced within 40 miles of its Herefordshire mill. Additionally, all apple waste at the factory is repurposed for green energy.
Pink Grapefruit and Honeycomb varieties join Brothers Cider range
Heineken is looking to target younger shoppers with these environmentally-friendly selling points. It also carried out research that shows four out of five 18-34 year-olds prefer the taste of Inch's to its nearest competitor.
Rachel Holms, Heineken UK cider marketing director, said: "From sourcing to sustainability, we are progressive cider makers on a mission to do things properly in pursuit of a great tasting British Cider that goes that little bit further to do the right thing. In doing so, Inch's will drive appeal and help recruit younger shoppers into the Apple Cider category to drive additional sales for retailers."
Heineken will support the launch with a multimillion-pound investment across TV, VOD, online, video and social, as well as national sampling campaigns. Retailers are encouraged to contact their Heineken representative for stocking information.
Read more product news