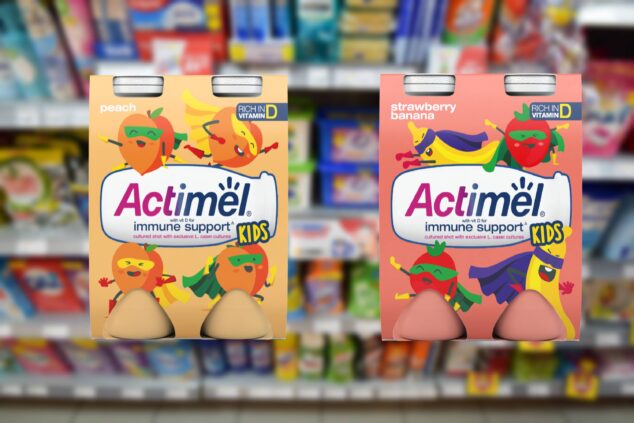 Danone Essential Dairy & Plant-based UK & Ireland is expanding its Actimel range with the launch of Actimel Kids, available in two flavours: Strawberry Banana and Peach.
The two Actimel Kids flavours contain a source of vitamin B6 and vitamin D, which is reported to help boost and support your immune system, and will be available to retailers nationwide by the end of summer in a pack of four with an RRP of £1.50.
Danone Waters relaunches Volvic Touch of Fruit with refreshed packaging.
The launch will be supported with a TV and digital campaign, as well as in-store and sampling opportunities during the peak back-to-school period.
Actimel Kids comes as health continues to be ranked as a priority for consumers and interest in functional food is as strong as ever, with searches around immunity still three times higher than in July 2019.
Back to school has the potential for huge retail sales
Sarah Dossett, marketing director at Danone Essential Dairy & Plant-based UK & Ireland, said: "With over half of parents (62%) also looking for products for their children containing vitamin and minerals, Actimel Kids offers a great fit for their needs and helps to bring immune support to children in a tasty and practical way.
"As we continue to drive category growth through Actimel, we're excited to bring our expertise in immune support to the new Actimel Kids range to support the normal function of the immune systems of little ones across the UK & Ireland. At the breakfast table or as a snack, the Actimel shots are packed with our exclusive L. casei cultures."