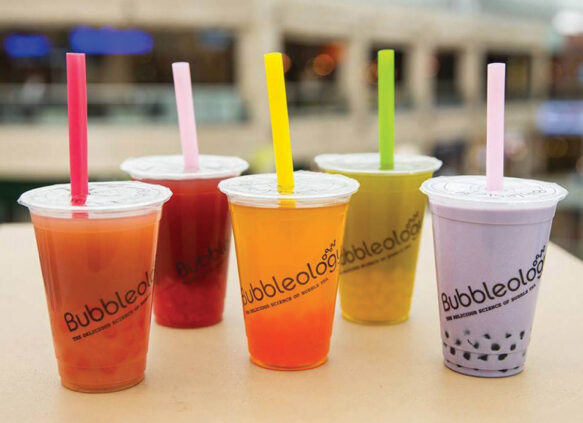 Convenience stores are looking to cash in on the growing popularity of bubble tea.
The hot or cold Taiwanese drink, which offers up to 68% margin for sellers, consists of a green or black tea base, toppings – often tapioca pearls – syrups and dairy, and can be made without specialist machinery.
Ting Huang, former bubble tea shop owner and founder of bubble tea wholesaler Boba Tea Company, said the concept had grown from one restaurant in London's Chinatown to several on most high streets within a decade.
"Bubble tea has always been popular in Asia across China, Korea, Thailand, Japan and India. The UK market used to just be British Asians, but now it's being driven by demand from students as well," she added.
Dilmeet Singh, owner of Gerrards Cross Londis in Buckinghamshire, said he'd seen another store become the first to introduce the product. "I really wanted to add it to my store to help my food-to-go range stand out, but it's been really tough to find a supplier," he said.
DIY self-install plan for Tango Ice Blast machines
Huang said Boba Tea Company supplies 150 customers operating between 200 and 300 outlets.
The company also has plans to introduce a self-serve vending machine.
The owner reported rising interest from convenience stores but said the industry was struggling to import supplies, with a two-to-three-month lead time for new customers.
Ingredient costs per cup were reported as £1.50- £2, while retail prices are between £3.50 and £4.70, creating margins of up to 68%.
While rising overheads and wholesale prices are creating challenges for standalone bubble tea outlets, Huang said the high margin and long shelf life of ingredients makes it an opportunity for local stores. "If you have a shop already and the overheads have been paid by the rest of the sales, you might sell just five cups a day and you'd still be fine on wastage," he added.
Vimto Out of Home to become UK Slush Puppie distributor
Key store demographics for bubble tea are younger customers, tourists and British Asian communities, according to Huang. "It's like offering coffee in store over the counter. Training takes around one hour. As part of a convenience offering, I'd stick to testing three or four varieties to find out what sells," he said.
"British Asians tend to like black tea varieties served warm, while for English people it's fruit varieties served with ice. The most popular are strawberry, green apple, mango, lychee and passion fruit."
Instead of using a hob to cook tapioca pearls and a cup-sealing machine (costing between £600-£800), retailers can use three-in-one powders and popping pearls, which are pre-cooked, and serve it in dome cups, the same as slush companies use.
"All they need then is the thermal container. I don't think anybody but us sells them, but they are quite cheap.
"If shops buy the ingredients and the thermal, we can share the recipes, and show them how it's used," said Huang.
To find out more about bubble tea, contact betterRetailing on 020 7689 3371 or email jack.courtez@newtrade.co.uk
Read more: food-to-go products, news and articles