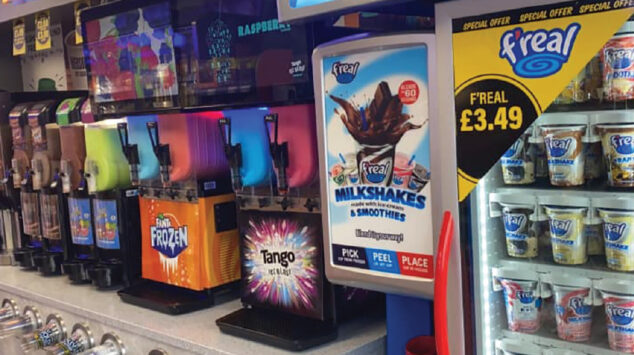 Booker is to unveil a food-to-go concept in its stores, based on a similar service started by one of its Premier retailers.
In emails sent to customers about its trade shows in Doncaster and Sandown next month, the wholesaler said it would be highlighting 'Refresh @ Premier' among its range of food-to-go products.
Refresh @ Premier was started and unveiled by Mandeep Singh, who runs a Premier in Sheffield, last year.
The concept – a standalone food-to-go area in Singh's shop – combines F'real, Tango Ice Blast, Hershey's Freeze and hot coffee machines. Explaining the plans, one source close to the company told betterRetailing: "They are refreshing the concept, so it is a different version of what's been done previously.
"They've learned lessons from what they have done before and are trying to achieve something that can be spread out further to more retailers.
Retailers take on Booker over 'disgraceful' new delivery fee
"The current model won't work in every single store, but they're trying to find something that other independent retailers can fit into their shops."
Explaining the success of the original Refresh concept in his store, Mandeep Singh told betterRetailing: "We combine it with our deli counter and, together, sales average £7,000 per week. The service is also offered through home delivery, which helps boost sales.
"Everything complements each other and it ticks many boxes. There's a slushy option for kids and adults, but the hot drinks also provide an option for older customers. It's something new that stands out for many customers.
"Our main competition from a supermarket is a Tesco Metro nearby.
"We haven't got any direct retail competition, so it's our only real competitor. They haven't got anything like a deli counter."
EXCLUSIVE: Booker to trial 'dark hub' delivered sites
A similar concept was also installed at a newly refitted Premier store in County Durham.
Co-owner Jassy Dhinsa told betterRetailing the concept was popular among customers following its installation.
Booker has previously provided support to other food-to-go concepts developed by its retailers. One example is Cool Cocktails Co, developed by Leeds retailer AJ Singh in his Premier store. The service offered takeaway cocktails prepared fresh in the store.
One Stop announced last year it would be rolling out its Eat Street concept to more stores.
Similar to Refresh @ Premier, Eat Street combines chilled and hot-food-to-go machines in a standalone area. Other products being highlighted by Booker at its upcoming trade show include the Jack's range, with "[more than] 575 lines and new PoS".
Booker was approached for comment.
Read more Booker Wholesale news