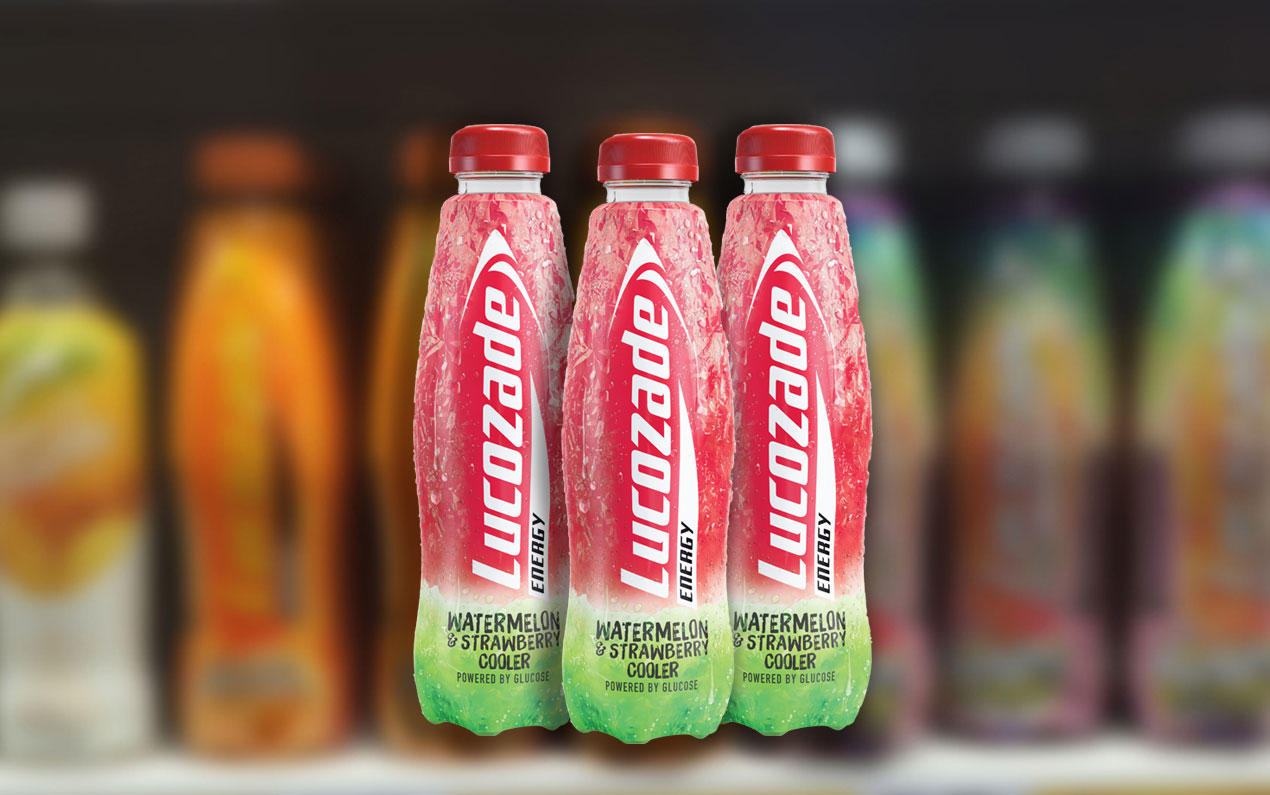 The opportunity for additional sales during the summer is clear, with consumers out and about more during warmer weather and looking for their favourite soft drinks brands for refreshment on the go. In 2018, soft drinks sales in independent convenience stores were up to 84% higher in July than in January. This translates into a substantial sales opportunity for independent retailers throughout the warmer months.
We advise retailers to follow simple category advice during the summer to maximise sales. Focus on layout, review the range regularly and stock up frequently. The layout in the chiller is more important than ever in the summer when shoppers want to find what they're looking for quickly and easily. Products should be brand-blocked with a minimum of two facings per flavour, and more for bestsellers like Lucozade Energy.
---
Bring excitement to your chiller
Our latest flavour launch, Watermelon & Strawberry Cooler, has already hit shelves in time for summer. Available in 1l, 500ml and 380ml price-marked packs, the flavour is the newest addition to the £276m Lucozade Energy range. Along with other Lucozade Energy flavours, the 380ml price-marked pack is available in cases of 12 to help retailers manage their range and encourage trial of new flavours, as well as helping to keep their stock room clearer. The launch will be supported as part of a £2m advertising campaign including outdoor, digital and shopper-facing ads to make it unmissable throughout the warmer months.
Make the most of low- and no-sugar
There's a long-term trend towards drinks with lower sugar as consumers become more and more interested in living healthier lifestyles. Shoppers' spend on zero- and low-sugar drinks has increased by 33% and 29% respectively in recent months, showing how important this segment is. Our category-leading reformulation means Lucozade Energy now contains less sugar and is also available in a zero-sugar alternative with Lucozade Zero. Lucozade Zero is growing at 14%, so it's important to stock the core range and Zero to suit all shoppers.
Spark sales this summer with brand campaigns
Brand advertising is key to maintain top-of-mind awareness for shoppers. Our latest brand campaign, 'Spark something', is a £10m marketing investment brought to life through TV, outdoor, social and digital advertising, as well as in-store activation through PoS, including free-standing display units, barkers and shelf wobblers. In addition to 'Spark something', we also have a £2m campaign to support our flavours range so Watermelon & Strawberry Cooler and our other flavours are promoted throughout summer. Dedicate more chiller space to brands with high-impact marketing campaigns and utilise their PoS throughout the summer months help drive sales in store.
Maximise drinks sales through food to go
With 13% of convenience shoppers driven by food- and drink-to-go missions, meal deals are certainly an important part of an independent store's offering. Soft drinks are the most frequently bought item by food-to-go shoppers, comprising 27% of their total spend. Including the bestselling soft drinks brands with a wide range of summery flavours within the deal is a great way to grab shoppers' attention and encourage them to take part in the promotion.
Focus on the shopper's mission
We've recently conducted a major piece of research that reveals an opportunity to grow the category by £1.4bn. The research identified six key category drivers and simple changes to shopper behaviour that could increase the value of the soft drinks sector, including the opportunities around tastier, healthier refreshment for consumers and their increasing interest in leading active and effective lives. If retailers can tap into these category drivers through their offering in store, they will reap the additional sales benefits.
Go to betterRetailing.com/soft-drinks to find out more