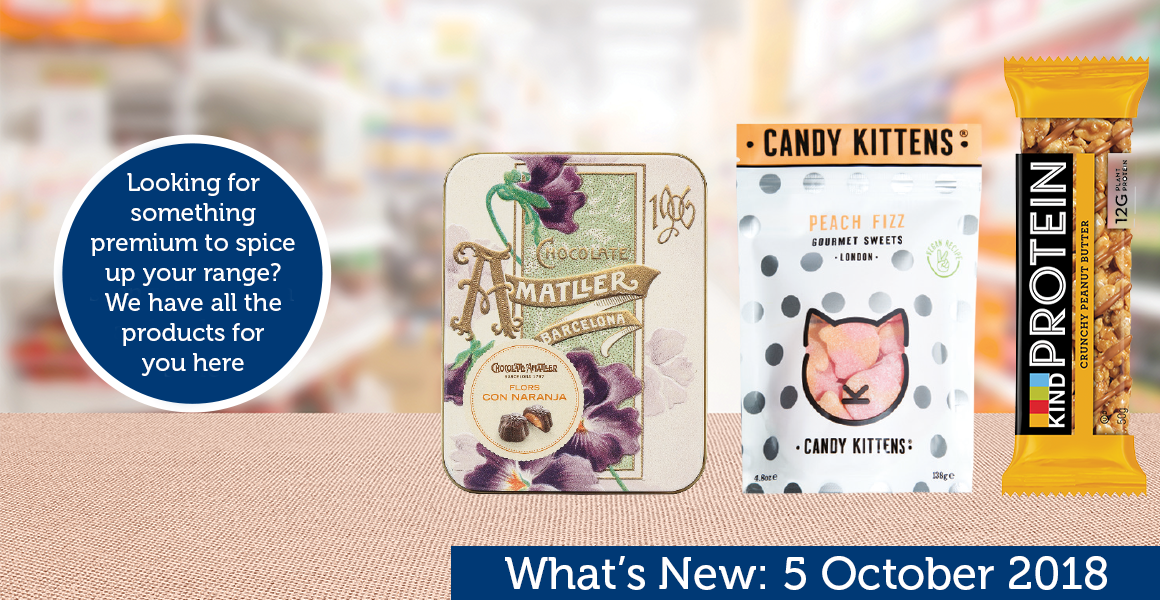 Kind Protein bars
Kind Protein bars are available in three varieties and contain 12g of plant protein per 50g bar. They are also high in fibre and gluten-free.
RRP £1.69
Contact info@kindsnacks.co.uk
Brindisa chocolates
Amatller chocolates by Brindisa come in stylish packaging, appealing to those shoppers looking for edible gifts for birthdays, anniversaries and weddings.
RRP £7.50
Contact sales@brindisa.com
Brindisa Spanish figs
Brindisa's thin-skinned calabacitas figs, packed with fibre, iron, potassium and calcium, are available in a convenient 70g pouch and can be eaten on its own, or as a versatile cooking ingredient for both sweet and savoury dishes.
​​​​​​RRP £2.45
Contact sales@brindisa.com
Candy Kitten Peach Fizz
Candy Kitten Peach Fizz sharing bags are gourmet sweets that are vegan gummy candies made from natural flavours, colours and real fruit juices.
RRP £1.20
Contact wholesale@candykittens.co.uk
Land chocolate
Land's Toasted White Chocolate with Cocoa Nibs uses cocoa butter from Nicaragua, which has a natural chocolate aroma with some slight acidity. It is mixed together with a milk powder that has been heavily toasted to have a biscuity aroma.
RRP £5.50
Contact info@landchocolate.com
Kara Tulip Muffin range
Kara has redeveloped its Tulip Muffin range to contain 20% less sugar, meeting Public Health England's 2020 guidelines. It is designed for shoppers who are consciously monitoring their sugar intake, but still want a treat.
RRP £2.50
Contact andrew@ilkagency.com