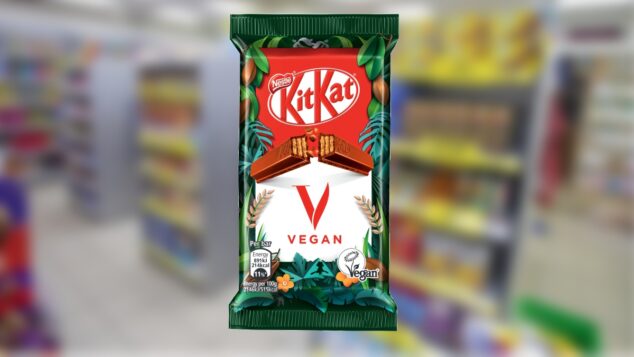 Nestlé Confectionery has unveiled plans to launch a vegan version of its KitKat brand, KitKat V, alongside KitKat Zebra.
KitKat V, available in a four-finger bar, features chocolate blended with plant-based ingredients and is set to be launched later this year.
KitKat Zebra comes in a 41.5g bar (RRP 85p) and is available now from most major retailers and wholesalers, and will be in convenience stores from next month.
KitKat V has been certified by the Vegan Society and, similar to the rest of the KitKat range, both are made from 100% sustainable cocoa, sourced through the Nestlé Cocoa Plan in conjunction with the Rainforest Alliance.
Nestlé brings back old KitKat chunky flavours
Louise Barrett, head of the Nestlé Confectionery product technology centre, said: "Taste was a priority when developing the plant-based chocolate for our new vegan KitKat. We used our expertise in ingredients, together with a test and learn approach, to create a delicious vegan choice for KitKat fans."
Nestlé launches KitKat cash promo
Alex Gonnella, marketing director for Nestlé Confectionery, said: "There is quite a food revolution underway that's changing how people eat and we want to be at the forefront of that.
"We have seen an incredible response to our vegan friendly Fruit Pastilles since their launch last year, so we know how much people want to enjoy alternative versions of their favourite treats.
"The most common request we see on social media is for a vegan KitKat, so we're delighted to be able to make that wish come true."
Read more product news