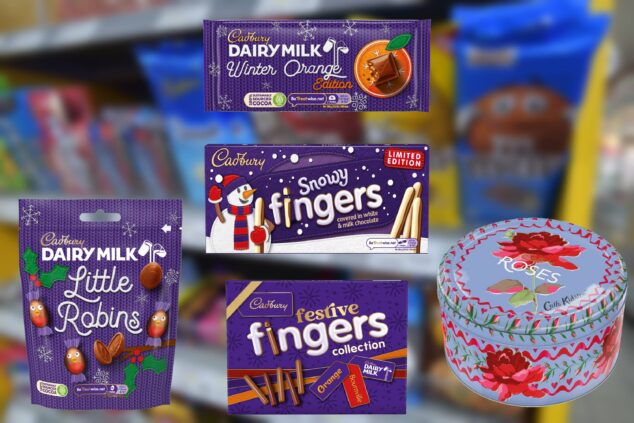 Mondelez International has unveiled its 2021 Christmas range, including new launches from Cadbury, Green and Black's, Maynard Bassetts and Oreo.
Chocolate is a key category at Christmas, so it's essential retailers prepare their range early to maximise their shoppers' seasonal spend, according to Susan Nash, trade communications manager at Mondelez.
"The opportunity for retailers begins in September and lasts until the end of December, with four phases to enable them to stock the right range at the right time."
Product news: Fry's Turkish Delight Cherry limited-edition multipacks launched
In September, Nash recommends stores kick off with sharing confectionery for the nights in occasion, with tubs and pouches being critical to success, while October is about the 'self-treat' section as the core Christmas season begins, and Nash suggests focusing on novelties confectionery, such as Cadbury Mini Snowballs.
From November, retailers should begin the 'countdown to Christmas' in store with advent calendars and tree decorations, before encouraging trade up in December by stocking up on gifts and selection packs to drive maximum sales from festive shoppers.
Here's a summary of the new products from Mondelez to help retailers make the most of the Christmas period.
Confectionery
Cadbury Puds (RRP 60p) is returning to retailers' shelves for the first time since 2003, and contains a truffle centre, hazelnut and rice crisp pieces covered in Cadbury Dairy Milk.
Also new to 2021 is Cadbury Dairy Milk Winter Orange Edition (RRP £1.49), designed to help retailers capitalise on one of the fastest-growing flavours of the year with its winter-themed design to increase shelf stand-out.
The new addition joins the rest of Mondelez' self-treat and novelities range, which includes Cadbury Mini Snowballs, Little Robins Hazelnut Crème and Chocolate Noisette and Jingly Bells (classic and Daim varities).
Cadbury Dairy Milk Snowman is also returning in two flavours, Classic and Orange, and Cadbury Dairy Milk Gingerbread and Winter Wonderland will also make a comeback.
From the Maynard's Bassetts range, the seasonal sharing bags will be making a return with a new, eye-catching design, designed to drive the seasonal sharing novelties segment for retailers.
Product news: Cadbury Goo Heads and Oreoooo among Mondelez' Halloween range
Advent Calendars
Joining the range is the Cadbury Advent Calendar: Build Your Own Christmas Tree, which allows shoppers to build and decorate their own pop-out Christmas Tree throughout December.
For younger children, retailers can stock the Cadbury Freddo Colour Me in Advent, which has playing and interactive colouring pages, but to encourage trade up, retailers are encouraged to stock the Green and Blacks Advent Calendar, which has undergone a refresh following the brand's redesign earlier this year.
Returning to the range is the Cadbury 3D Advent Calendar and Cadbury Dairy Milk Advent Calendar, filled with Cadbury Dairy Milk chunks with walnut and caramel.
Sharing lines
Cadbury Dairy Milk Chocolate House will hit shelves soon, made up of Cadbury White Buttons, Cadbury Dairy Milk Gingerbread, Cadbury Dairy Milk Winter Wonderland and Cadbury Flake, and is aimed to be a line shared with family and friends over the festive season.
A multipack of Freddo Christmas crackers will also join this year's line up, each filled with two Cadbury classic chocolates, containing less than 100 calories each, and a surprise toy to help retailers offer parents a convenient and fun gift for their families.
Cadbury Dairy Milk Collection of Festive Favourites, also new, consists of two Cadbury Dairy Milk Winter Wonderland bars, a Cadbury Dairy Milk Gingerbread bar and a brand-new Cadbury Dairy Milk Orange Winter edition bar.
Mondelez said that following the success of the Cadbury Roses partnership with Olivia Burton and Emma Bridgewater in the past few years, it has teamed up with Cath Kidston to encourage retailers and shoppers alike to say a heartfelt thank you with the limited-edition tin.
Meanwhile, Cadbury Hereos has a new look this year to ensure a bold and eye-catching position on shelf as consumers look for treats to share with loved ones.
Fry's Selection Box, Cadbury Tree Decorations, Cadbury Hollow Santas, Cadbury Crackers and Freddo Plush Toy Gifts will return to offer retailers a full range of Christmas treats.
Product news: Mondelez offers retailers chance to win family prizes through buying Cadbury treats range
Biscuits
Oreo Festive Favourites will return this year, alongside Cadbury and Oreo Selection Box, filled with a selection of Cadbury and Oreo biscuits, like Cadbury Fingers.
The selection box is an ideal treat for sharing with loved ones and has been designed specifically to drive stand out on shelf.
The Oreo Seasonal Tin will make a comeback, too, filled with classic, chocolate and golden Oreo, as well as a limited-edition box of Oreo Snowy Enrobed Biscuits, containing original Oreo biscuits covered with a white chocolate flavour coating.
Also returning this year is the Oreo Yard, Cadbury Snowy Fingers, Cadbury Festive Friends and The Great Big Box of Fingers, to ensure retailers meet the different – and ever changing – needs of their shoppers.
A round up of the full Mondelez Christmas 2021 range
Cadbury Puds – RRP 60p
Cadbury Dairy Milk Winter Orange Edition – RRP £1.49
Maynard's Bassetts Seasonal Sharing Bag – RRP £1.32
Cadbury Dairy Milk Advent Calendar – RRP £2.19
Cadbury Advent Calendar: Build Your Own Christmas Tree – RRP £5.99
Cadbury Freddo Colour Me in Advent – RRP £3
Green and Blacks Advent Calendar – RRP £12.99
Cadbury Tree Decorations – RRP £1.50-£2.50
Cadbury Dairy Milk Chocolate House – RRP £14
Cadbury Dairy Milk Freddo Christmas Cracker – RRP £5
Cadbury Dairy Milk Collection of Festive Favourites – RRP £5.95
Fry's Selection Box – RRP £2.99
Cadbury Roses by Cath Kidston – RRP £9.99
Cadbury Heroes Tub – RRP £9.99
Oreo Festive Favourites – RRP £2.99
Cadbury and Oreo Selection Box – RRP £4
Oreo Seasonal Tin – RRP £6
Oreo Enrobed – RRP £2.69
Oreo Yard – RRP £3.19
Cadbury Snowy Fingers – RRP £1.39
Cadbury Festive Fingers Collection – RRP £4.50
Cadbury Festive Friends – RRP £1.79
The Great Big Box of Fingers – RRP £6.50