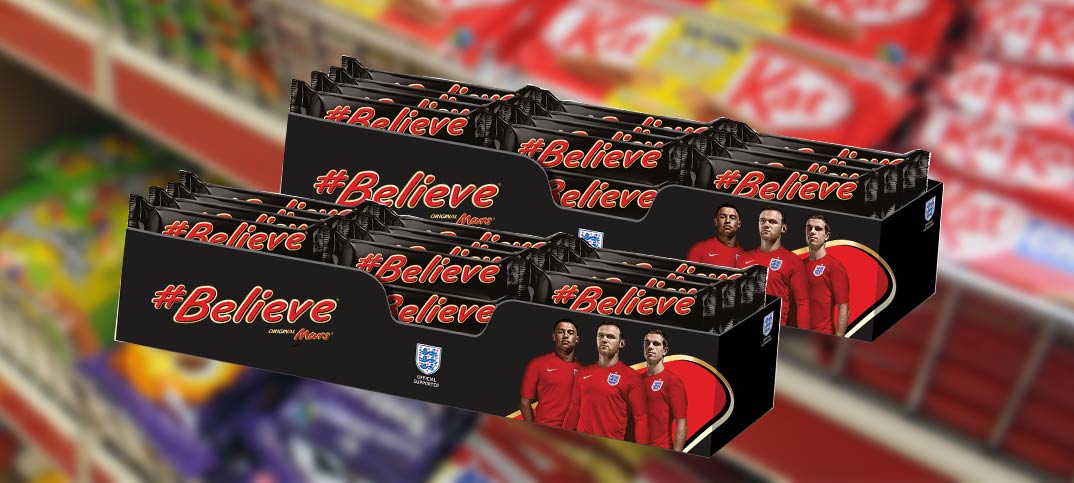 "Now is the time to bring Euro 2016 to your store." That's the advice from Mars Chocolate as it unveils details of its "#Believe" campaign.
The brand is redesigning its singles, duos, four-packs and nine-packs with limited-edition packaging, replacing the word Mars with "#Believe".
The activity includes a social media campaign with videos of the players, which will encourage football fans to believe in their home team.
With a media investment of £4.1m, Mars will be kicking off its campaign with a new TV ad featuring Harry Kane, Danny Welbeck and Jamie Vardy, which broadcasts on May 15.
The campaign will run in England, Wales and Northern Ireland. In Scotland, the campaign will still be promoted on packs and Mars will run a competition to give two people the chance to win a kickabout with a Scottish football player, as well as other football prizes.
The bars are available to stock now and retailers can promote the campaign in store with PoS. Retailers are also encouraged to help promote the campaign on their own social media channels.
Greg Kent, Mars brand manager, said: "Up to 20 million people are set to watch each match in the tournament, with a potential audience of 15.3 million UK fans predicted to be on Twitter at any one time during the average Euro 2016 game."