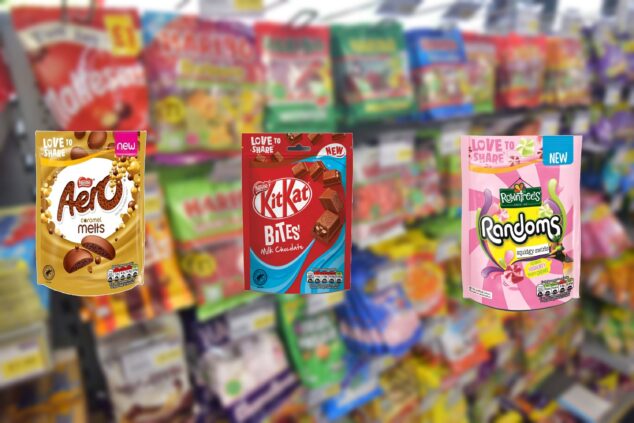 Nestlé Confectionery as announced its spring lineup, with new products launching across KitKat, Aero and Rowntree's.
Below, we've highlighted the key launches available now to convenience stores.
KitKat Bites
KitKat Bites are a bite-sized format of the popular KitKat bar, and are available in 90g sharing bags from Booker, with an RRP of £1.59.
A Chocolate Caramel flavour has also launched exclusively to Tesco and Booker retailers.
Meg Miller, brand manager for KitKat at Nestlé Confectionery, says: "Our new KitKat Bites boast rich filling and crispy wafer pieces encased in a milk chocolate shell.
"Perfect for a little evening indulgence, such as a family night in or after dinner treats, KitKat Bites deliver an intense, chocolate hit with every mouthful. This is a grown-up twist on the brand and we're excited to bring KitKat Bites to the market."
Nestlé launches limited-edition Caramelised Biscuit KitKat variety
KitKat four-finger Orange and two-finger White
KitKat White is available in multipacks of nine two-finger bars with an RRP of £1.99 and contain just 106 calories per bar.
Meanwhile, KitKat four-finger Orange, available in a 41.5g bar (RRP 70p), aims to help independent retailers capitalise on the orange-flavour boom.
The full KitKat range is made using 100% certified sustainable cocoa, sourced through the Nestle Cocoa Plan in conjunction with Rainforest Alliance and contains no artificial colours, flavours or preservatives.
Aero Melts
Aero Melts are a combination of light and bubbly chocolate that aims to help stores capitalise on shoppers looking for indulgent treats.
Available in milk chocolate and caramel flavour sharing bags, Aero Melts are available now.
Marion Miles, Aero senior brand manager at Nestlé Confectionery, says: "Aero is renowned for its unique combination of chocolate and bubbles that melt effortlessly in your mouth, giving you a little uplifting moment.
"The science and technology behind Aero made it unique from the start, but we continually look for new ways to innovate and delight fans."
Category advice: Spring confectionery
Rowntree's Randoms Squidgy Swirls
Random Squidgy Swirls are the latest addition to the Rowntree's brand, consisting of an assortment of fruit and yoghurt-flavour jellies in three varieties: blackcurrant and yoghurt, strawberry and yoghurt and apple and yoghurt.
Sascha Macchi, senior brand manager for Rowntree's at Nestlé Confectionery, says: "Our newest chews are fruity and creamy-tasting, making a fun and playful treat for fruity chew lovers of all ages."