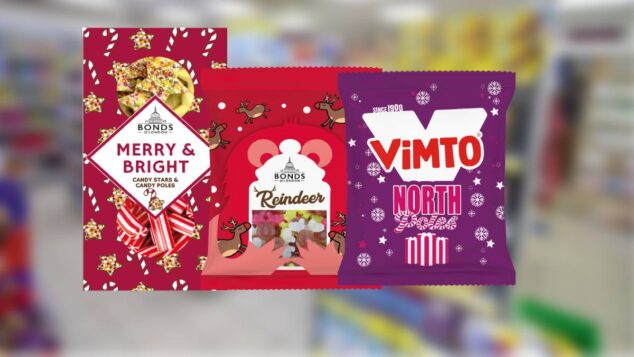 Confectionery wholesaler Hancocks has unveiled its Christmas 2021 range, which includes 600 product lines from over 50 global suppliers.
Marketing communications manager at Hancocks, Chris Smith, said: "Christmas is all about getting together with those dearest to you and enjoying good food and drink. Confectionery is an important part of that and always has been, whether that's gifting sweet treats or sitting around the Christmas tree tucking into tasty chocolate and sweets.
"We have a huge range of options for retailers looking for confectionery for their customers. We're stocking all the traditional favourites as well as our exciting launches from brands including Bonds, Vimto and American confectionary brands. There really is something for everyone."
Pernod Ricard unveils what-to-stock Christmas spirits list
New products
Merry & Bright and Happy Hour Pun Boxes are among the latest additions from Bonds, each including candy stars and candy poles.
Bonds Candy Stars (140g) and Reindeer Jellies (140g) sharing bags, a Festive Mix Shaker Cup, and Bonds Sweet Sprinkles are also included in the new range. The Bonds Sweet Sprinkles comprises six jars of sweets that can go on cakes, milkshakes, hot chocolates, ice-creams and desserts.
Hancocks have also secured exclusive Vimto North Poles (140g) sharing bags.
Retailers can also purchase popular US confectionery for the festive season, including Nerds Advent Calendar and Warheads Sour Candy Canes.
Pladis unveils Christmas 2021 savoury biscuits from Carr's and Jacob's
Giant Nerd's (250g) boxes are another new addition, with Lemonade and Strawberry or Grape and Strawberry being the two flavours available.
Independent retailers also have the opportunity to purchase pick and mix online and in-store. The pick and mix ranges include an exclusive line from Haribo such as Giant Trees (2.75kg) bulk bags.
Jelly Snowflakes, Santa Belt Foil Chocolate Coins, Santa and Christmas Tree Mallows, and Crème Filled Golden Bears are among the new festive products released by Hancocks for this Christmas season.
The final addition to Hancocks Christmas range is the Giant Share Bag of Pick & Mix'd Winter Mix (850g).
Festive packaging can also be purchased from Snowman and Christmas Tree jars with lids to window carry boxes are the new Santa and Snowflake designed Christmas boxes.
Read more Hancocks Cash & Carry news and articles
Read more about Christmas products and seasonal advice