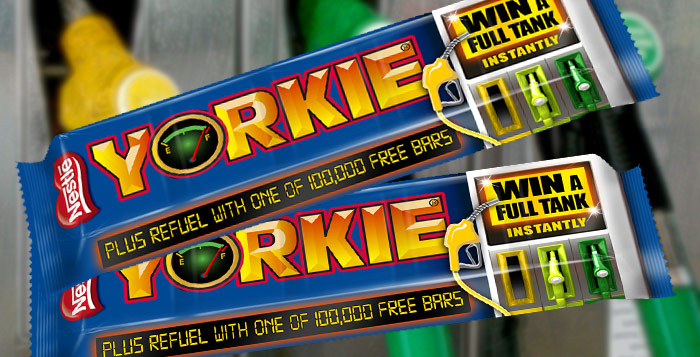 Nestle Confectionery is planning on fuelling chocolate sales this month by bringing back its 'win a tank of fuel' Yorkie promotion for the third year running.
One hundred winning tickets have been hidden in promotional packs offering lucky shoppers the chance to instantly win a 'full tank' of fuel.
Yorkie has attracted more than two million new households to the brand in the past year
Shoppers also have a further 50 chances to win a full tank of fuel as well as thousands of standard Yorkie bars by visiting the brand's website and entering the code printed on the inside of the pack.
The brand has also returned to TV with its 'Man fuel for man stuff' ad to drive awareness and sales.
James Maxton, Nestlé UK & Ireland senior corporate communications manager, said the promotion provides a great opportunity for retailers to drive impulse sales, particularly with Yorkie's target audience of young men.
"With fuel costs continuing to increase, this should be an extremely motivating promotion, which has proved successful over the past two years," he said.
"Our advice to retailers looking to capitalise on the Yorkie Fuel promotion is simply to display promotional packs in-store where shoppers cannot miss them."