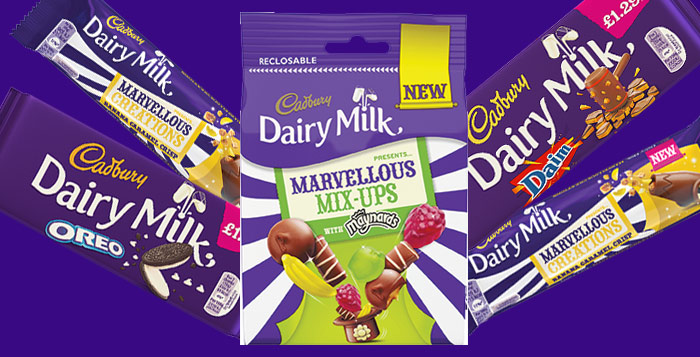 Chocolate sales are set to be even more marvellous for Mondelez International as the company has added three new wacky products to its confectionery line-up.
Launch info
CDM with Oreo/CDM with Daim
Launch: April 1
Format: 200g
RRP: £1.29
CDM Marvellous Creations Mix Ups
Launch: April 7
Variants: Oreo/Maynards
RRP: £2.13
CDM Marvellous Creations Banana Caramel Crisp
Launch: May 19
Format: single/200g
RRP: 61p/£2.49
Banana Caramel Crisp will join Cadbury Dairy Milk Marvellous Creations in June in both single and 200g bars. The large bar replaces Cola Pretzel Honeycomb, which launched last year.
The brand will also move into the bitesize market for the first time with Marvellous Mix Ups. The bags combine family favourites in two variants – Oreo and Maynards – and are available from next month.
"They are made for Saturday night when families are watching their favourite shows," said Declan Duggan, brand manager for Marvellous Creations and Cadbury bitesize. He added that three of the four top-selling bitesize launches in the past three years have been Cadbury lines. "We know when we do bags we grow the category," he said.
The launches follow huge success for the Cadbury Dairy Milk Marvellous Creations range, which is worth £49.7m. Cadbury Dairy Milk Marvellous Creations will be supported by a £4.5m marketing investment this year.
Mondelez is also helping convenience retailers boost sales by launching two price-marked packs for Cadbury Dairy Milk with Oreo and Cadbury Dairy Milk with Daim. Both 200g tablets will be price-marked at £1.29.