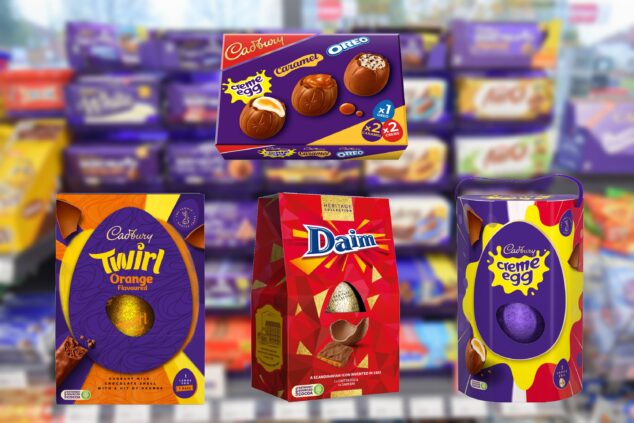 Mondelez International has announced its Cadbury Easter 2022 line-up, starting with impulse to help convenience retailers capitalise on the second largest confectionery season after Christmas.
Last year, Easter sales increased by 11% and with the Easter season this year lasting two weeks longer, timing is particularly important.
Up until Valentine's Day on 14 February, retailers should give their Easter sales a 'fast start' by catering for shoppers looking for small treats for themselves and taking advantage of the three quarters of shoppers who purchase Easter confectionery early who say they intend to buy again.
Mondelez to launch plant-based Cadbury Plant Bar in November
From there, the manufacturer recommends adding 'momentum' to their Easter sales by ensuring they have the right range for shoppers looking to buy confectionery to share.
Retailers should also meet the needs of shoppers on the traditional gift mission as Easter Sunday approaches, with shell eggs an essential part of the product mix for a 'gift finish'.
Below, we've rounded up how convenience retailers can prepare and meet their customers needs, including the latest launches from the brand.
Getting off to a fast start
Retailers need to signpost the season early and use social media to make customers aware their favourite Easter products are on shelf, says Susan Nash, trade communications manager at Mondelez.
"With great displays in high footfall locations in store, retailers can boost their self-eat and sharing offers to shoppers," she said.
In a new promotion, Mondelez are inviting shoppers to find one of 200 special promotional half white half milk chocolate Cadbury Creme Eggs across the UK and Ireland for a change to win £10,000 – but only if they don't eat it.
The 'How do you not eat yours?' campaign will run across in-store PoS and via online and outdoor advertising, highlighting the promotion to consumers.
Mondelez to launch Cadbury Twirl Orange in 60p PMP format
"Two out of three people buy Cadbury Creme Egg for non-Easter related consumption, with three sold every second during the season, making it a must-stock for retailers," Nash adds.
New to this year's Cadbury Easter range is a special mixed gift package containing five filled eggs, including two Cadbury Creme Eggs, two Caramel Eggs and one Oreo egg (RRP £3.14).
The Cadbury Mini Eggs Tablet returns this year, after becoming the number-one new product following its launch last year, with its eye-catching yellow colours of the brand's stand-out packaging across its range.
Creating mid-season momentum
Creating momentum at Easter means focusing on sharing options for your customers – and a key focus for Mondelez is a continuation of the brand's partnership with Peter Rabbit.
The iconic bunny is celebrating its 120th anniversary this year and will grace the front of the Cadbury Dairy Milk Hot Cross Bun Bar – new this year.
The bar is available now in a 110g packet, has an RRP of £1.40 and is a cinnamon crunch flavoured to help tap into the loved Easter ritual of sharing hot cross buns.
The new launch joins the rest of the Peter Rabbit range, which includes Cadbury Dairy Milk Egg 'n' Spoon with Oreo, Cadbury Dairy Milk Bunny Orange Mousse and the Cadbury Hollows range, comprising of White Oreo Hollow Bunny and Cadbury Dairy Milk Holly Bunny, available in 50g and 100g formats.
Cadbury Spring Share Box (RRP £5.99) joins the range this year, containing Cadbury Mini Eggs, Cadbury Creme Eggs and Caramel Eggs, as well as Cadbury Egg Twisted singles.
Gift finish
The run-up to Easter weekend is about ensuring shoppers can find gifts to give to loved ones, starting with Cadbury's shell-egg range and larger gift-worth options.
Nash said approximately 10% of Easter Eggs sales were driven by medium and large-sized eggs in 2021, as more shoppers chose to trade up.
"Retailers can tap into this trend by ensuring they stock up on the bestselling large, medium and small eggs to create a range for every gift occasion."
New for 2022 is the Cadbury Twirl Orange Large Egg, joining the brand's Twirl Large Egg and contains one large orange-flavoured egg and two Twirl Orange single bars.
Cadbury Creme Egg Gesture Egg and Cadbury Fingers Gestures Egg are also now available, with each of the two products containing one large shell egg and three Cadbury Creme Eggs or three packs of Cadbury Mini Fingers respectively.
Mondelez unveils limited-edition Cadbury Wispa Gold Hazelnut flavour
Also joining the range is the Daim Heritage Egg, which includes one heritage shell egg and 1 Daim 28g bar, available now with an RRP of £3.99.
Mondelez will also be bringing back its 'Show you care hide it' campaign, which reaches around 92% of UK adults, encouraging them to show their loved ones how much they care by hiding an egg from them.
The Cadbury Worldwide Hide will also return, enabling people across the UK to hide an egg virtually anywhere in the world using Google Maps. The brand will be visible through in-store PoS, as well as a fully integrated campaign across TV, outdoor and social media.
Touching on sustainability, the supplier stated most of its packaging is now recyclable across all its Easter packaging, with no rigid plastic, as part of its 'Pack light & pack right' strategy.
New products for Easter 2022
Cadbury Mixed Filled Egg Collection five-pack, RRP £3.14
Case size: 28
Cadbury Dairy Milk Hot Cross Bun Bar 110g, RRP £1.49
Case size: 18
Cadbury Spring Share Box 450g, RRP £5.99
Case size: 4
Cadbury Twirl Orange Large Egg 241g, RRP £6
Case size: 6
Cadbury Creme Egg Shell Egg 275g, RRP £8
Case size: 4
Cadbury Fingers Shell Egg 212g, RRP £8
Case size: 4
Cadbury Daim Shell Egg 138g, RRP £3.99
Case size: 9