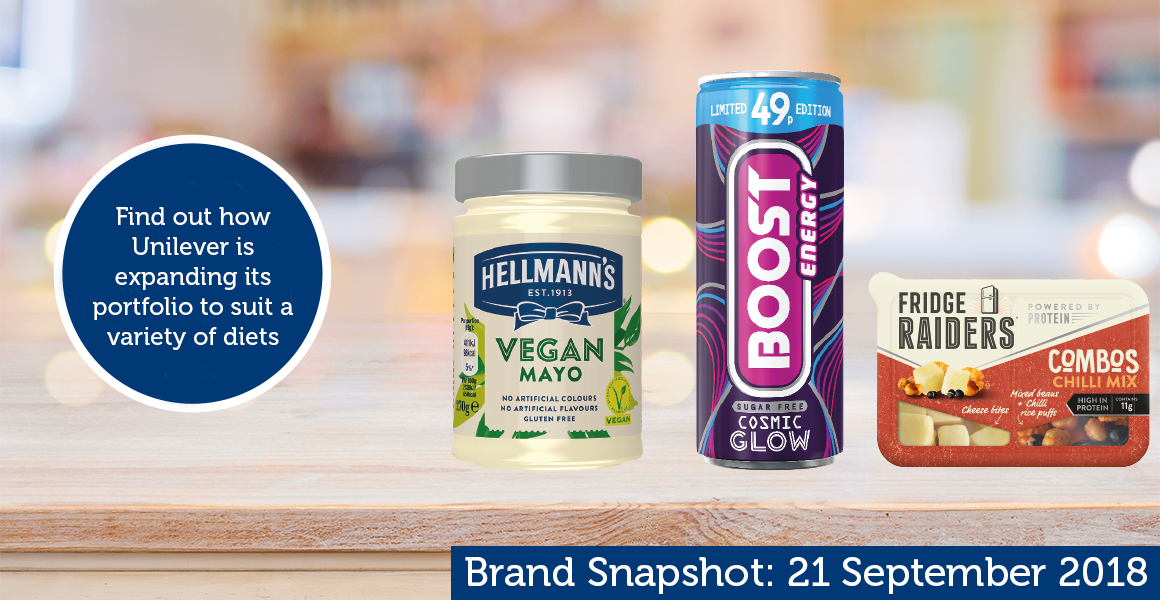 Hellmann's goes vegan
Unilever has introduced Hellmann's Vegan Mayo in the UK, in response to growing consumer demand for vegan alternatives.
Bites from the Middle East
Aryzta Food's Middle Eastern-inspired Spinach Pide products are available in two flavours: Gyros Chicken and Mozzarella, Basil & Tomato.
Join the Club
Pladis has added Club Orange Cake Crunchies to its McVitie's Cake range which is available in a five-pack with an RRP of £1.65.
Premium rosé for Budgens
Concha y Toro's launch of its premium California rosé product Adorada is
now available to all Budgens retailers, with an RRP of £12.
Convenient Combos
Kerry Foods' Combos for its Fridge Raiders brand in BBQ and Chilli flavours is now available in a convenient, two-compartment format.
J2HO HO HO
Britvic is relaunching its limited-edition J2O Glitter Berry variety, with edible gold glitter, in time for Christmas.
Boost gets a Cosmic Glow
Boost Drinks' new limited-edition sugar-free variant Cosmic Glow is available in 250ml cans, pricemarked at 49p.
Coca-Cola's eco campaign
Coca-Cola European Partners' new marketing campaign encourages and rewards people for recycling empty bottles, in the run-up to Recycle Week.
KP's new pretzel packs
KP Snacks has launched Penn State pretzel snacks in a multipack format, which will be available in store from 15 October.