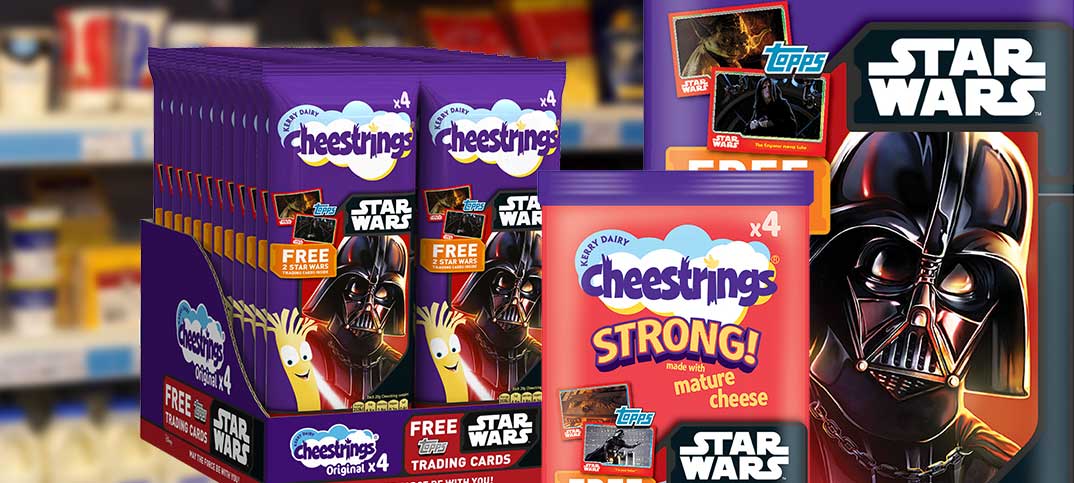 With the latest Star Wars film launching in cinemas on December 18, Cheestrings is disturbing the force with a new on-pack promotion.
Available to independent retailers in November across all Cheestrings and Cheestrings Twisted packs, the on-pack promotion is launching exclusively in Asda first this month. The packs will include two collectable Star Wars Topps cards to drive repeat purchase.
The packs have been revamped with images of Star Wars characters, while inside the individual Cheestrings are packaged to look like lightsabers.
The promotion is supported by a £1.5m marketing campaign, which includes TV advertising for four weeks from November 23. Retailers can promote the packs in store with PoS.
The campaign is aimed at Cheestrings' target market of mums looking for snacks for kids' lunchboxes and after school.
Tom Willcock, kids' dairy snacks marketing manager at Kerry Foods, said the promotion would drive additional sales for retailers this winter.
"We've created a fun, relevant and exciting campaign which we believe will give our existing consumers lots of reasons to buy Cheestrings more frequently but will also attract new ones to the brand," he added.