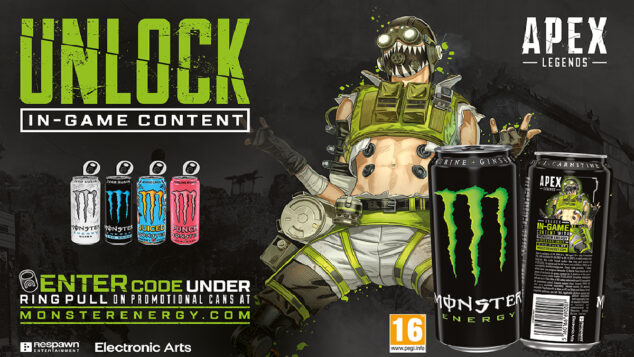 Coca-Cola Europacific Partners (CCEP) has unveiled a new partnership between its Monster Energy range and popular videogame Apex Legends that features an on-pack promotion.
The on-pack promotion features unique codes found under the ring-pulls of single and four-pack cans across the following flavours: Monster Original, Monster Absolutely Zero, Monster Ultra White, Monster Juiced Mango Loco, Monster Juiced Pipeline Punch and Monster Assault. It is available now to retailers.
Walkers teams up with Ghostbusters: Afterlife for on-pack promo
Shoppers have until 31 March 2022 to enter their codes online, which can give them points towards in-game content.
The promotional pack designs feature two of the game's most popular characters, and themed PoS materials are also available from my.ccep.com from the middle of October.
The promotion comes as Monster is now worth £374m and is the number one deliverer of value growth in energy drinks according to CCEP, having added nearly £98m of value to the category in the past year.
CCEP brings Fanta back to TV for Halloween
Martin Attock, vice president of commercial development at CCEP GB, said: "Gaming continues to be a huge and fast-growing part of the global entertainment industry – in which Monster has been a major player for nearly two decades. We're always looking to reward our loyal Monster fans with unmissable experiences and believe our partnership with Apex Legends will do just that – as well as helping to recruit new shoppers from the wider Apex fanbase."
Monster will also run several high-profile media partnerships to highlight the new partnership.
Read more Coca-Cola European Partners (CCEP) product news and articles