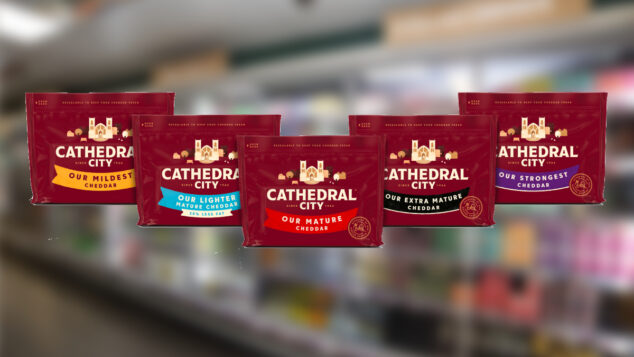 Saputo Dairy UK has unveiled a brand redesign for its Cathedral City cheese brand, its first in six years.
Rolling out this month, the new branding features a modern city scene with the brand's signature cathedral in the centre as well as new line-specific colourways. It retains the brand's burgundy colouring.
It also features a newly added signature from Cathedral City's Master Cheese Grader, highlighting the quality control put into production of the cheese.
Boursin to launch first plant-based cheese alternative
Currently, Cathedral City is the number-one cheese brand in the UK, worth £288m and bought by 44.4% of all UK households, according to Kantar.
Neil Steward, head of marketing for cheese at Saputo, said: "Quality is at the heart of Cathedral City and has been for more than five decades. We use only milk from dedicated farmers in the southwest of England, and every batch is carefully reviewed and approved before it reaches our consumers. This is so important to us and sets us apart, so it's right that we celebrate this in our product packaging, highlighting what has made Cathedral City the nation's favourite for so long."
Read more product news