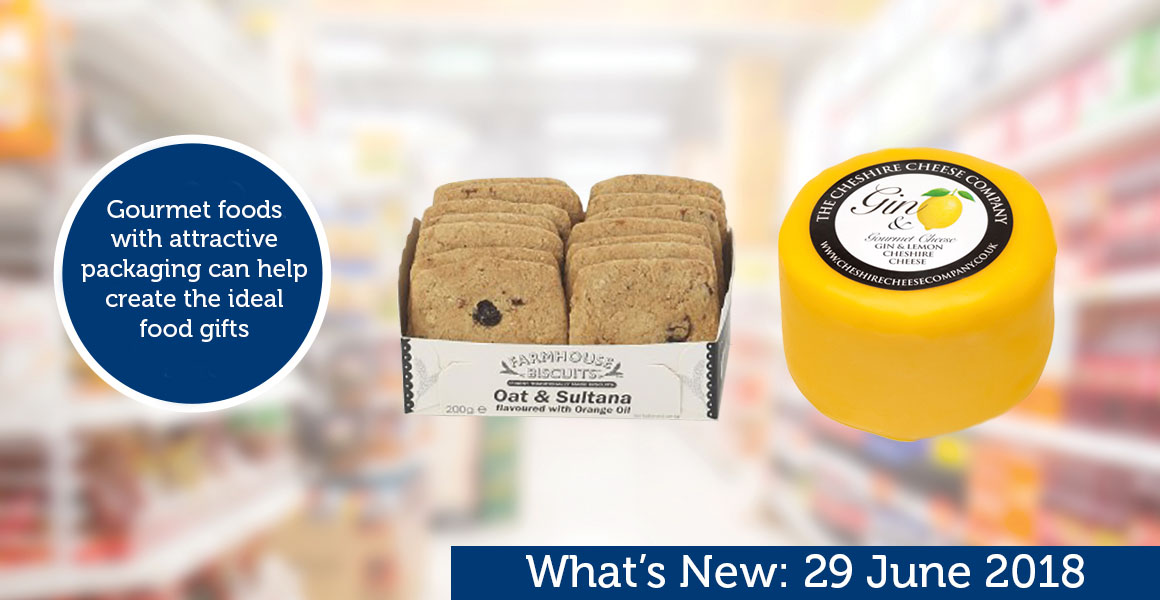 Food to gift
Having a selection of gourmet foods in premium packaging can help attract shoppers looking for food to give as gifts
Farmhouse Biscuits Oat & Sultana
Farmhouse Biscuits' Oat & Sultana are orange-flavoured and designed for those seeking new flavour varieties of oat biscuits, with its premium packaging appealing to people looking to give gifts.
RRP £2.35
Contact lmayor@farmhouse-biscuits.co.uk
Gin & Lemon Cheshire Cheese
The Cheshire Cheese Company's Gin & Lemon Cheshire Cheese was awarded a bronze medal in the International Cheese Awards in 2017 and offers something new which can be bought as a gift.
RRP £4.75
Contact ruth@cheshirecheese.info
Tribe protein bars
Tribe's nutrition bars are vegan, gluten- and dairy-free. They are part of Tribe's range of bar and drink products, marketed towards people looking for sports energy and recovery snacks.
RRP £1.99
Contact guy@wearetribe.co.uk
Rod & Ben's Pea & Mint
As the brand's bestseller in the summer, Rod & Ben's Pea & Mint Soup is available in cases of six, at £13.32. It is organic, made with locally-sourced veg and has a minimum shelf life of 14 days.
RRP £2.99
Contact orders@rodandbens.com
Jimmy's Iced Coffee
Jimmy's Iced Coffee is launching new, lower-sugar coffees for the summer. The sugar content in the Original Jimmy's has been reduced by 35% and the fat-free Skinny by 33%.
RRP £1.60 (330ml)
Contact sales@jimmysicedcoffee.com
The Saucy Affair Raw Sauces
The Saucy Affair Raw Sauces are packed with fresh herbs, fruit and veg, contain no added salt or sugar and are free from gluten and lactose. They can be used as a cook-in sauce, dip or dressing.
RRP £4.49
Contact armando@dressquerade.com
Tims Dairy Greek Style Vanilla yoghurt
Tims Dairy Bio-Live Greek Style Vanilla yoghurt comes in a single-serve portion for people looking for on-the-go snacks. It can also be used as a dessert topping and alternative to cream or custard.
RRP 92p
Contact info@timsdairy.co.uk
Vivalicious Introjuice Superfood
Introjuice Superfood by Vivalicious is available in five varieties that all offer different benefits. They include: Charge Up, Kick Start, Switch On, Chill Out and Shape Up (which has a drop of gin).
RRP £2.29 to £2.79
Contact info@vivalicious.se