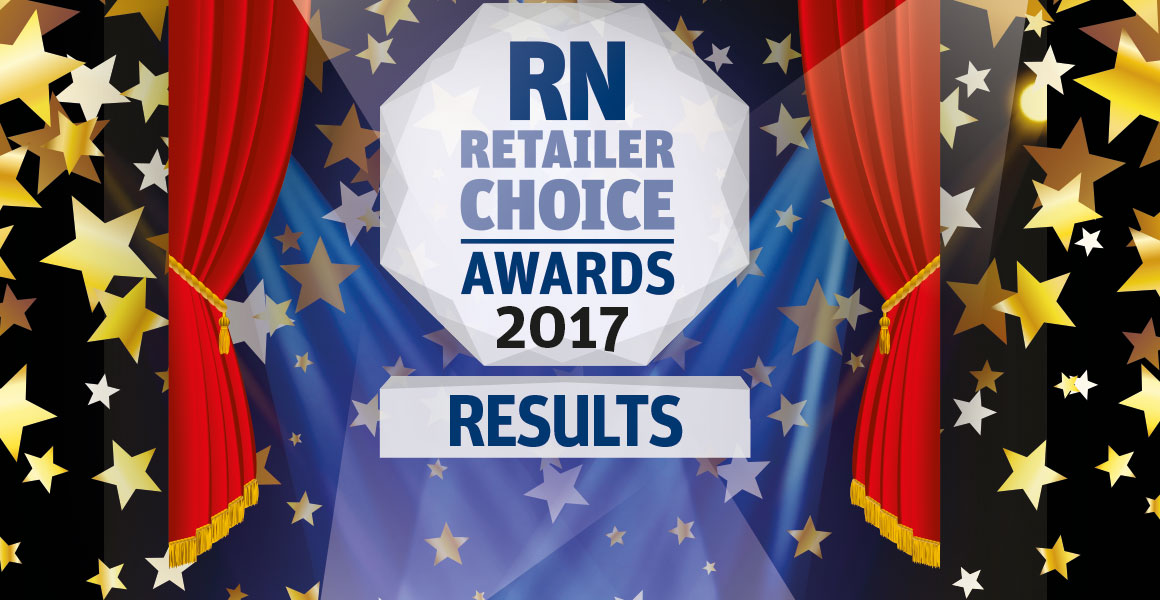 After 10 days of voting and an amazing number of votes, RN is ready to reveal the companies you chose to recognise in this year's Retailer Choice Awards. Tom Gockelen-Kozlowski reports
The strength of retailers' respect for those suppliers who work with them week-in-week out for the collective benefit of both parties is highlighted by the outstanding engagement RN receives for its Retailer Choice Awards each year. In 2017, and with nearly 2,500 votes cast, this is truer than ever.
Over the next four pages businesses who have gone the extra mile to boost sales, meet changing consumer demand or adapt to new legislation are all recognised. Meanwhile, our winners also tell readers how store owners can continue to strengthen this relationship in the year ahead.
Read on to discover if you voted for this year's winners and, you never know, perhaps you could forge a new and profitable partnership with one or two of our winners as they outline their plans for success in 2018.
Supplier of the Year
PepsiCo
Walkers may be a much-loved brand, but PepsiCo doesn't rest on its laurels. Its 'Choose Me Or Lose Me Campaign' raised engagement while a focus on pricemarked packs will be welcomed by many store owners. It is worth noting that PepsiCo snacks account for an astonishing eight of the top 10 crisps in independents, according to RN's What To Stock guide. Meanwhile, its Counts for More website continues to reward great store standards.
Retailer verdict
Kay Patel, Best-one, Wanstead
We've just got back our Counts for More points for the year and its worth well over £1,000. Pepsico's reps have worked with me to adapt our planograms so that we have the bestsellers in stock and cut back on our slow lines. Importantly, they've worked closely with us so that we can keep some of the range that we know works for us. These days this kind of support and these rebates are more important than ever.
Newsstand star performer
Daily Mail
Mail Newspapers powered up its existing incentive scheme MyMail with a partnership with the biggest loyalty programme in the UK, Nectar, in the summer. Other recent activity by the publisher was also recognised when the Mail won the NFRN's National Newspaper of the Year award last month, for launching its Newsagent of the Month scheme, and being a driving force behind the industry-wide Deliver My Newspaper HND initiative.
Retailer verdict
Martin Ward, Cowpen Lane Stores, Cleveland
Our Mails have been selling really well. They've supported us throughout the year – they haven't cut our terms like a lot of other newspapers have – so we've pushed their product to our customers in return. We have substituted some copies of the Daily Express for the Daily Mail and so on. Customers have responded well because they like the newspaper they are buying too.
Salesforce of the year
Imperial
In a difficult year for tobacco, retailers could either decide to scale back focus on the category or find success through maintaining a great range. It was vital retailers had support from the biggest suppliers in the industry and Imperial Tobacco has come up trumps. Imperial reps helped committed retailers at every stage. A trade-focused website provides further information at all hours with a specific area focusing on the fight against the illicit trade.
Retailer verdict
Perry Pirapakran, S&M Supermarket, London
We've worked closely with Imperial this year, which has obviously included a lot of adaptations due to all the new tobacco legislation. They provided support throughout all of that: material to inform customers, suggestions on how to range after plain packaging, discussion of pricing decisions after the loss of pricemarking. It's made a big difference at a time that's been really challenging for the category.
Symbol Group of the Year
Spar
An 8.5% increase in sales and a rise in store numbers to more than 180 has made this a good year for Spar. The best Spar stores have always been among the very best in the UK, but in 2017 sharing this best practice appears to have been a focus. Alongside the further roll out of Daily Deli and an encouragement to invest in bakery and butchery counters, retailers have had the opportunity to fit attention-grabbing elements such as orange juice machines. This year marked Spar's 60th operating in the UK.
Retailer verdict
Conrad Davies, Spar Pwllheli, Wales
I'd say Spar is the strongest symbol group of them all because of all the support retailers like us receive. I can always rely on them to fix any problems we have quickly across the entire store, whether that be IT or supply issues. Availability is fantastic and their staff training is also brilliant. I can trust that they will allow us to remain entrepreneurial and maintain our independence.
Wholesaler of the Year
Booker
Every wholesaler took a hit from the arrival of EUTPD II but Booker managed an impressive 7.7% increase in non-tobacco sales last year and continues to be 3.1% cheaper than the industry average. The merger with Tesco has been controversial in an industry under pressure by inflation, competition and wage increases. But, the tangible investments – particularly in Premier and Budgens – shows the company hasn't taken its eye off the ball.
Retailer verdict
Anita Nye, Premier Eldred Drive Stores, Orpington
Booker won because retailers like myself can always rely on their warehouses to have everything we need, even in these more difficult times. Availability is very good and I'm always able to get exactly the stock I'm looking for whenever I go to the depot. On top of all of this, the retail development managers are always on hand to help with any queries I might have about deals or new products.
Ad campaign of the year
Imperial Suspect it, Report it
Along with a growing number of gantry removals, the investment in Imperial's 'Suspect it? Report it' communication campaign has been a vital part of the fight against illicit tobacco since the arrival of EUTPD II. October's Budget contained another increase in tobacco prices and this may boost the illicit trade. This magazine will stand with suppliers in the fight against those who stock counterfeit tobacco.
Retailer verdict
Ralph Patel, The Look In, Surrey
A lot of NFRN members like me found Imperial's anti-illicit trade campaign very helpful. If you're a retailer and there's a guy down the road selling illicit tobacco, it can be difficult, especially since it's the local area and you don't know who might be involved – maybe a customer you've ad for years. So the information and guidance is extremely useful for guiding people on how to tackle a tricky but costly issue.
Digital innovation of the year
Zapper
E-payment and loyalty app Zapper is another app offering convenience to shoppers. Data from the company's trials shows that in the first month, 12% of users had spent £40 or more. When compared to the success rates of previous marketing tools, early signs are that Zapper could make a big difference to many retailers' promotional, marketing and pricing strategies. It is a step closer to tailoring shopping to an individual's habits.
Retailer verdict
Siva Thievanayagan, Nisa Local, Peterborough
Zapper has been really good for my business. It brings more people into the store, it makes payment quick and simple, and we can send out vouchers targeted at customers in a way that just wasn't possible before. For example, we've currently got vouchers offering a deal on £5 Quality Street tubs. It also provides us with a database that captures when customers are coming in and what they are buying.
Footfall driver of the year
Click and Collect
Internet shopping is transforming retail and annual events such as Black Friday highlight the fact this is a trend only set to grow. By working with a host of companies offering click and collect services – which these days includes almost every store on the high street, as well as the fast-growing number of online retailers – independent retailers are ensuring they can benefit in-store from this retail revolution and turn potential competitors into partners.
Retailer verdict
Chirs Shelley, Shelley's Budgens, Horsham
Click and collect gets people into the store who maybe wouldn't have come otherwise, especially around Christmas. The only challenge is that it can take up quite a lot of stockroom space – but it's worth it, because a lot of our sales are impulse driven, and people who come in to pick up a parcel will grab a few other things on their way through the store, boosting our overall basket spend too.
Merchandising initiative of the year
Better Biscuits, Better Business
Pladis has had a busy year with a number of key products launched. The company's category management platform ensures stores are utilising this activity to the fullest extent, with detailed ranging advice, planograms, PoS and a profit calculator. Its five-step guide can help retailers see as much as a 68% uplift in biscuits sales. The site is part of a strategy to make Pladis "the second biggest food company in the world."
Retailer verdict
Serge Khunkhun, Premier Woodcross, Wolverhampton
We've now got a much better laid out fixture than we had before we worked with Pladis and we now have a few different lines which we didn't stock before but which are all in the top 50 best sellers. Like suppliers in other categories, Pladis has taken a category-wide approach to our biscuit fixture which is absolutely fantastic. More importantly, I'm really, really, pleased with the way it looks.
Launch of the year
Cadbury Dairy Milk Oreos
Mondelez's bringing together of Cadbury and biscuit brand Oreo into a range of tablet bars has proved popular, with the co-branded range worth more than £20m. Two new bars – Mint and Peanut Butter – were added to Mondelez's expanded tablets range in February with a £3m marketing campaign to back them. In testing, 89% of consumers said they were likely to purchase one of the three Cadbury Dairy Milk Oreo flavours (Mint, Peanut Butter or standard Oreo).
Retailer verdict
Hitesh Pandya, Toni's News, Ramsgate
These Oreo bars have done really well for us. They fill the same niche as Cadbury's Marvellous Creations, but with the Cadbury brand and the Oreo brand both on packs it has kept the market fresh and proven popular with our consumers. We sell them on a three for £1.49 deal which encourages people to give it a try which is really important with new products.
Innovation of the year
Deliver my Newspaper
Publishers putting their differences aside and working together on an HND-boosting initiative is a sign of how serious they are about increasing stores' sales. Readers can sign up in five easy steps online and are then able to get six weeks' free newspaper delivery. Titles involved include the Sun, The Times, the Daily Mail, the Guardian, i, and the Daily Telegraph, making it by far the biggest newspaper promotion of all time.
Retailer verdict
Raj Wadher, Upton News, Slough
I think it's a fantastic idea. It's a great move for the newspaper industry. It is good for customers and good for the publishers. It should also mean that those who are keen to take on more HND, like ourselves, get more customers because if someone looks for a local one on the website and the one nearest to them isn't offering deliveries, they will then be recommended to us.
Growth category of the year
Next Generation e-cigarettes
After EUTPD II it has at times felt like the tobacco industry has done a hand-brake turn, focusing on the likes of Pro-logic and IQOS. Internationally, a rise in sales of Philip Morris's branded IQOS sticks more than outweighs the decline in cigarette sales and the company's boss even told the UK media that he could envisage a time when Philip Morris ceased the sale of traditional tobacco completely.
Retailer verdict
John Hanna, Smokemart, Brighton
The whole range of e-cigarettes have been doing very well in my store. As a rule, ladies like the cartridge cigarettes, which are more elegant and easier to handle, and men like the liquid ones, which are a little messier. The new Logic capsule technology is taking off too and brands do tend to work. It's a solid market, too – no one who moves to e-cigs ever goes back to smoking.