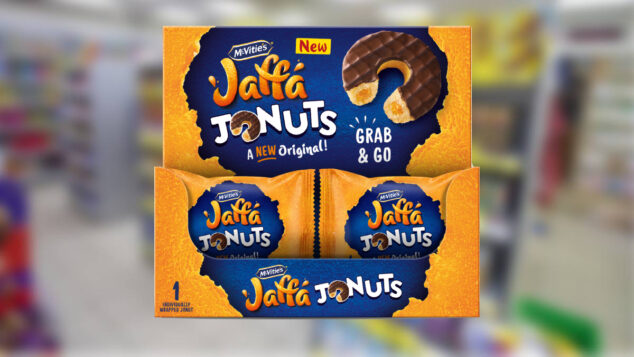 Pladis is launching McVitie's Jaffa Jonuts, a hybrid biscuit that combines elements of Jaffa Cakes with the ring shape of a donut.
The supplier says the new variety is its biggest format invention for the Jaffa Cakes brand in the past two years, and is hoping to add to its £66.4m value.
Pladis to push McVitie's Jaffa Cakes with 'Be What You Want To Be' ad campaign
Jaffa Jonuts will be available to independent convenience and wholesale from the end of June in individual 43g packs with an RRP of 60p and a 4x43g box with an RRP of £1.99, following a launch in Tesco on 16 May.
Both pack formats will be recyclable through Pladis' partnership with Terracycle.
Last year, Jaffa Cakes was one of the UK's top 10 bestselling biscuits brand, with 14.4% sales growth in 2020. The launch of Jaffa Jonuts follows on from the release of Cherry and Passionfruit varieties of Jaffa Cakes in January, and the 'Be What You Want To Be' ad campaign.
Pladis launches two new McVitie's Jaffa Cakes flavours
Emma Stowers, brand director for McVitie's at Pladis UK&I, said: "This NPD is the perfect example of how we can push the boundaries when it comes to what 'should' take pride of place on the biscuit aisle, plus it unlocks new occasions for biscuits. Jaffa Cakes are the original cake on the biscuit aisle and known and loved for this, so why not make room for a Jaffa Jonut too?"
Pladis will support the launch with a £2.1m campaign across out-of-home, digital, social media, PR and in-store POS.
Read more product news