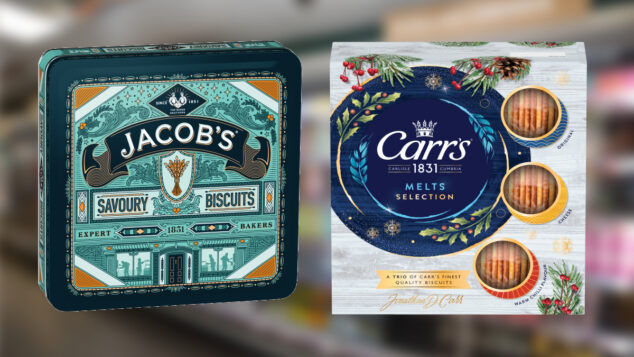 Pladis has unveiled the seasonal savoury biscuits in its 2021 Christmas range from Carr's and Jacob's, with both brands launching new products.
Carr's has expanded its Melts range with a new Warm Chilli flavour, exclusively for the Christmas period. It is available in a 150g box with an RRP of £1.49.
Pladis unveils 2021 McVitie's and Flipz Christmas range
Carr's is also launching its Melts in a festive-packaged selection pack, offering Original, Cheese and Warm Chilli flavours in one box at an RRP of £4.50. Carr's Melts is now worth £4.5m, having grown 20% since 2019.
Jacob's new launch for the season is the Heritage Tin, made to celebrate 170 years of the Jacob's brand. Designed for shoppers looking to trade up, the vintage-style tin with an RRP of £5, features longstanding Jacob's biscuits including Cream Crackers and Digestives.
Sentimental shoppers plan to splash out this Christmas
Previous products returning for this year include Jacob's Christmas Caddies, now available in fully-recyclable paper-based packaging across Treeselets, Mini Cheddars, Cracker Crisps Sour Cream & Chive flavour, and Twiglets, each with an RRP of £2.49.
Additionally, Jacob's Festive Selection and Carr's Seasonal Selection will also be available. Jacob's Festive Selection is available in 300g, 450g, and 900g boxes, with respective RRPs of £3, £4, and £6, while Carr's Seasonal Selection is available in a 400g pack with an RRP of £4.
Read more product news