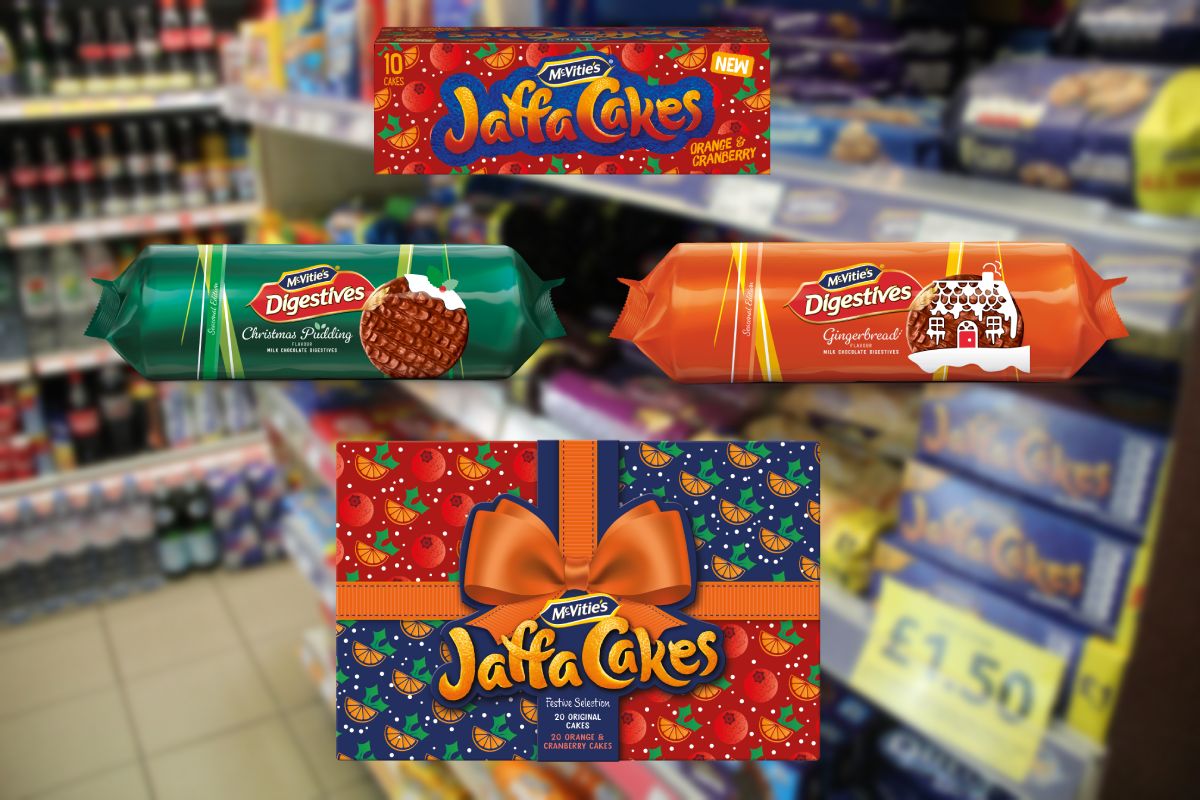 Pladis is adding five new lines to its 2020 McVitie's Christmas range to help retailers tap into seasonal trends, including indulgence, spending time together and gifts.
McVitie's Christmas Pudding Milk Chocolate Digestives and Gingerbread Milk Chocolate Digestives are available in 250g formats, with an RRP of £1.50. The supplier said that 73% of shoppers stated they would purchase the brand's Gingerbread flavour.
Mondelez announces 2020 Cadbury Christmas range
The company has also launched McVitie's Jaffa Cakes Orange & Cranberry, available in a 125g pack, containing the same ingredients as regular Jaffa Cakes, but with a tangy Orange and Cranberry jelly in the centre.
The new Orange & Cranberry flavour is designed to drive sales among the brand's loyal shopper base, with 31% of UK households claiming Jaffa Cakes is a must-stock, as well as younger shoppers looking to try new flavours.
Aiming to offer variety and tapping into the gifting category, McVitie's Jaffa Cakes Christmas Present comprises of 20 original and 20 seasonal Jaffa Cakes.
To encourage trade up and celebrate more than 180 years of the brand, Pladis has launched McVitie's Heritage Tin with an RRP of £8. The biscuit tin contains a selection of 28 biscuits, including chocolate biscuits, cookies and creams.
Ferrero unveils 2020 Christmas range
Jonathan Bull, head of McVitie's commercial and seasonal brands at Pladis, said: "Christmas is all about spending time with loved ones – and what better way to get into the festive spirit than by indulging in a few treats.
"By combining our existing range, like McVitie's Jaffa Cakes Christmas Pole and Tine, with our new products, we're appealing both a new generation of seasonal shoppers, as well as existing fans seeking something extra special for the festive season.
"This year, we're taking the range one step further by giving some of our bestsellers – McVitie's Digestives and McVitie's Jaffa Cakes – a festive transformation, offering retailers the opportunity to capitalise on the £161m seasonal sales opportunity."
McVitie's White Chocolate Digestive Nibbles, Family Circle, Victoria and Moments Signature Chocolate Biscuit Selection are also returning this year.
New for 2020
McVitie's Christmas Pudding Milk Chocolate Digestives 250g (RRP £1.50)
McVitie's Gingerbread Milk Chocolate Digestives 250g (RRP £1.50)
McVitie's Jaffa Cakes Orange & Cranberry 125g (RRP £1.20)
McVitie's Jaffa Cakes Christmas Present 400g (RRP £3)
McVitie's Heritage Tin 400g (RRP £8)