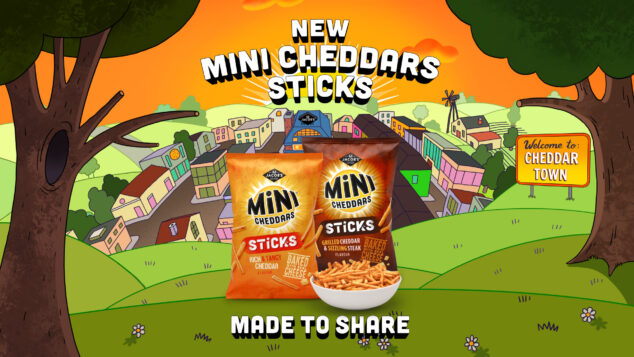 Pladis UK&I has announced the launch of a new £4.5m 'Welcome to cheddar town' campaign for its Jacob's Mini Cheddars brand.
The campaign will run for seven weeks on TV and social media, which kicked off last week on Channel 4, and sponsors the channel's 'Friday nights in on 4', with a series of idents running across the Friday-night schedule, which will run for six weeks.
Pladis launches Jacob's Mini Cheddars Sticks
'Welcome to cheddar town' aims to increase brand awareness and growth among 25-45-year-olds, which currently stands at 8% year on year by encouraging consumers to "enjoy a moment of cheeky cheesy pleasure".
A series of sponsorships posts and social media assets will spotlight different products on the Jacob's Mini Cheddars range and incorporate different characters that each play on the brand's taste credentials.
The campaign follows the launch of Jacob's Mini Cheddars Sticks to help retailers tap into evening snacking occasions and is currently in the top 20% of sharing snacks in its first eight weeks.
Pladis to push McVitie's Jaffa Cakes with 'Be What You Want To Be' ad campaign
Christopher Owen, marketing controller at Pladis UK&I, said: "This new campaign marks the start of a huge year for Jacob's Mini Cheddars where we're aiming to play on the distinctive brand and fun nature of the brand with a new TV creative.
"By bringing the brand to life through the characteratisation of Jacob's Mini Cheddars' real-cheese flavours, we're able to build strong quality and taste associations and land one of the brand's USPs – baked with real cheese.
"We'd encourage all retailers to stock-up on Jacob's core range and new products to drive incremental sales – particularly among younger shoppers – at a time when brand awareness will be top of mind."
Read more product news