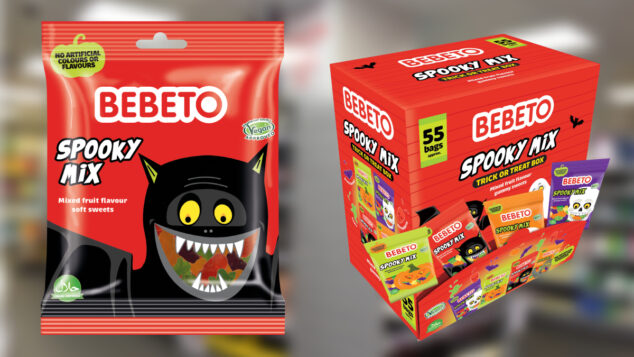 Kervan Gida UK has launched two products under its Bebeto confectionery brand ahead of Halloween.
Bebeto Spooky Mix is a 150g sharing bag featuring a selection of Halloween-shaped fruit gummies. They are halal, vegan and free from artificial colours and flavours. It has an RRP of £1 and is available from CJ Lang Spar retailers.
Kervan Gida expands Bebeto range with Just Bears launch
The supplier is also launching the Bebeto Trick or Treat Party Box. Each party box is 825g and contains 55 16g miniature bags of Spooky Mix, which the supplier says is ideal for trick or treaters. It is available at an RRP of £5 from James Hall & Co. Spar retailers and Valli Forecourts.
Kervan Gida has also expanded the availability of existing Halloween lines which previously were exclusive to Asda. Bebeto Fizzy Fangs and Gummy Brains are now available to CJ Lang Spar retailers alongside Bebeto Trick & Mix.
Read more product news