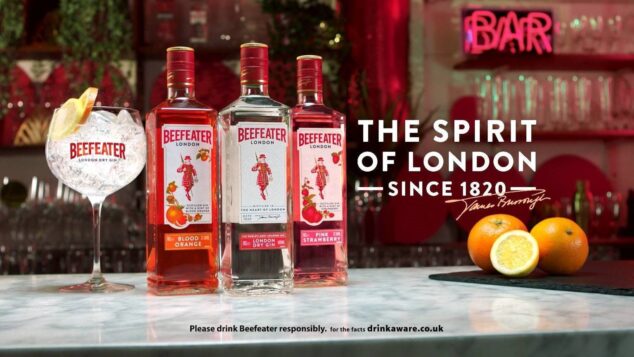 Pernod Ricard will be supporting the UK launch of its revamped Beefeater Gin bottle design with a multi-million pound ad campaign.
The supplier is rolling out the new packaging, which features a 100% recyclable glass bottle, aluminium cap, and paper label, from March 15.
It will be visible on all Beefeater brands apart from Beefeater 24, Beefeater Pink Strawberry, Beefeater Blood Orange, and Beefeater Peach & Raspberry.
Beefeater gets a sustainable makeover with new bottle design
The campaign will launch on 19 April and will run through until the end of August, to capitalise on the summer months.
It will consist of adverts across TV, video-on-demand and online social media, as well as e-commerce, in-store, and in-bar support.
Although the campaign is being released to coincide with the reopening of outdoor hospitality in mid-April, Beefeater's off-trade performance has been very strong, according to Pernod Ricard.
The supplier said that the brand's performance was outgrowing the gin category by 27.6% across total off-trade, with growth in convenience even higher at 35.6%.
Beefeater Peach & Raspberry launched exclusively in the UK
Laura Stephen, brand director for Beefeater at Pernod Ricard UK, said: "This is a significant investment for Beefeater and the start of a blockbuster few months. The new pack is a real step-change and has already enabled us to secure new off-trade listings for Beefeater London Dry, ensuring that more bottles are on shelf when our brand new TV advert and wider marketing campaign launches in April."
Read more product news