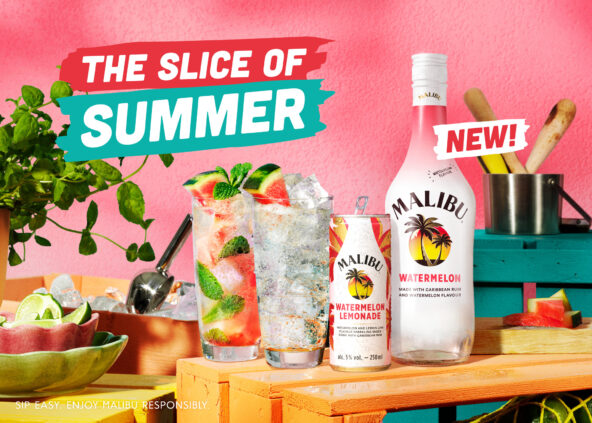 Pernod Ricard UK has jumped on the watermelon trend with the launch of Malibu Watermelon and Malibu Watermelon Lemonade, catering to the brand's 18-24-year-old consumers.
Both drinks tap into the increased demand for watermelon-flavoured alcoholic drinks, a flavour that has grown by 63% year on year.
Malibu Watermelon combines rum and watermelon, and is available in 70cl bottles with an ABV of 21%. It has an RRP of £15.
Malibu Strawberry Spritz hits c-stores stores
Watermelon Lemonade on the other hand comes in a ready-to-drink (RTD) format, combining lemonade with rum, watermelon and lemon-and-lime flavours.
The pre-mixed drinks category is growing 26.8%, and the Malibu can range is growing 50.2%, over double the rate of the pre-mixed drinks can category. Watermelon Lemonade 250ml cans have an ABV of 5% and an RRP of £1.80.
Pernod Ricard UK launches three Beefeater RTD cans
Chris Shead, channel director at Pernod Ricard UK, said: "We're delighted to be extending our current can offering at a time when the RTD market is booming, and Malibu's RTD range has gone from strength to strength over the last three years, helping to recruit younger shoppers into the brand."
Both lines are available from wholesalers including Bestway, Booker and United.
Read more product news