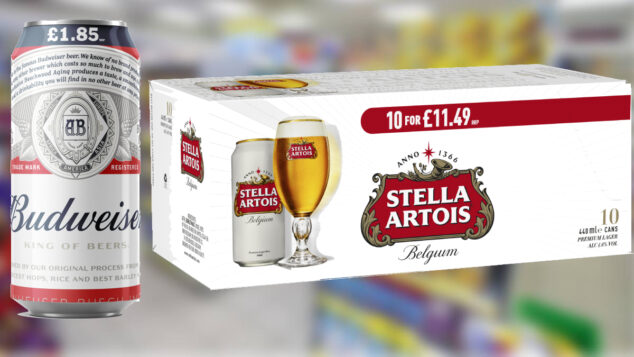 Budweiser Brewing Group is rolling out updated packaging following concerns that its switch to plastic-free can packs last year was unsafe for retailers and wholesalers.
The brewer removed plastic rings from four packs of Budweiser and Stella Artois cans last October in a move expected to save 250 tons of plastic each year. However, local shops quickly reported the alternate cardboard packaging was 'disintegrating', causing waste and problems in store.
Budweiser to exclusively distribute Spanish lager Mahou in UK
Last week, retailers claimed that despite Budweiser accepting the issue a year ago, the problem was yet to be addressed. Six retailers, a wholesaler and an industry expert all claimed the continued issue was putting store and wholesale staff at risk, with examples of pallets 'collapsing' due to the packaging design flaws.
Challenged by betterRetailing on the ongoing issues, a spokesperson from the brewer's UK and Ireland business responded: "While we carried out robust testing on our updated packaging and took all reasonable steps to make the packs as secure as possible, the removal of the plastic wrapping on the primary and secondary packaging has meant that additional care must be taken when handling.
"We carried out a full end-to-end investigation after being made aware of the challenges some customers were experiencing with our plastic ring-free packaging. During this investigation, we listened to our valued partners and have taken on board their feedback to improve the durability of our products.
Budweiser launches PMP pint cans and 10-packs of Budweiser and Stella Artois
"We have implemented various solutions, such as improved pallet protection, to mitigate some of the impacts identified. Our teams are also in the process of rolling out improved packaging, including lock mechanisms on our 4x568ml wrap design, to avoid circumstances where cans can fall out. These new solutions will be available on shelves within weeks.
"We are pleased with the progress our company has made to become more sustainable, but recognise we will need to continue find innovative solutions. We are committed to tackling these challenges head-on so we can meet the needs of our partners."
Read more news and advice on sustainable retail