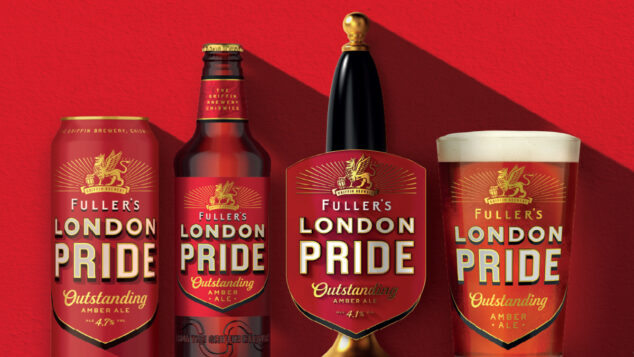 Asahi UK has unveiled a new design for Fuller's London Pride Amber Ale, featuring a new logo and typography.
The updated design will feature on branding for the ale across retail and hospitality.
Asahi relaunches Grolsch Premium Pilsner
According to Asahi, Fuller's remains a key option in the cask ale category, which is worth £577 million. During the pandemic, bottled and packaged ale in retail has increased in value by 26.8%.
The supplier has given the ale a more contemporary look, which retains its white and red colour palette, but updates the lettering to give it a 'gilded' appearance reminiscent of lettering on London pub windows.
Peroni Libera 0.0% announces partnership with Aston Martin Cognizant Formula One Team
Tim Clay, Asahi UK managing director, said: "Bottled ale drinkers continue to be extremely valuable to the beer market, with the share of spend in the category currently highest amongst the older, more affluent demographic.
"The new design represents an exciting next step in the long and storied journey of London Pride. Firmly established within the Asahi portfolio, London Pride sits within an unrivalled line-up of premium brands, and we are committed to building upon its existing strength and heritage to further unleash its potential."
Read more product news