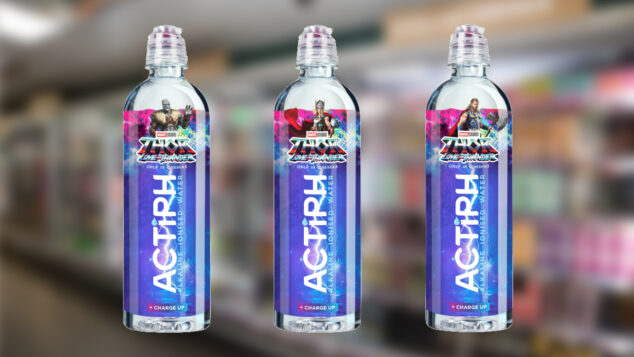 Alkaline ionised water brand Actiph Water has partnered with Marvel Studios ahead of the release of the film Thor: Love and Thunder on 7 July.
As part of the brand's "Charge up. Be Actiph" campaign, it is launching three limited-edition 600ml bottles (RRP £1.39) featuring three of the film's main characters: Thor, Mighty Thor (Jane Foster) and Korg.
The bottles are available from the following wholesalers: Brakes, CLF, Tree of Life, Health Store, Epicurium, Aqua Amore and Muscle Finesse as well as Clearline and Leydons in Northern Ireland.
They are also available directly from Actiph Water's website. The supplier also has dedicated FSDUs which retailers can request by contacting sales@actiphwater.com
Brioche Pasquier partners with Minions on two on-pack promos
Barnaby Hughes, chief marketing office at Actif, said: "The campaign itself is a testament to the growth Actiph has experienced in the last three years and the interest that not only consumers, but major brands like Disney are increasingly taking. We're delighted to be charging up our marketing strategy with a movie-making powerhouse!"
Actiph is supporting the launch of the bottles with a six-figure campaign featuring TV, social media and in-store advertising as well as billboards on the London Underground and London buses.
There will also be a consumer competition offering movie-themed prizes and Actiph drinks on Actiph's website and Instagram account until 5 August.
Read more product news