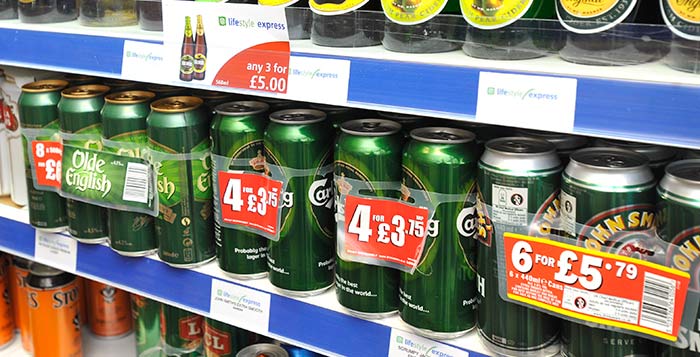 In each issue of Retail Express, we print the top five sellers from a Bestway depot in a different part of the country, which gives a snapshot of what is happening on a local basis. 
During the past two or three months, it's told a pretty coherent story – with Glen's and Smirnoff consistently featuring, alongside Foster's lager, White Ace cider and new Strongbow Dark Fruit, with small regional variations away from that.
Top 5 

sellers
Bestway, Bolton
Glen's Vodka 70cl
White Ace Cider 3L PM £4.09
Glen's Vodka 35cl
Smirnoff Red Label 70cl PM £13.40
Foster's Lager 4x500ml PM £4.25
*4 weeks to September 4, 2014 
The latest top five (right) helps add to the story. Of this week's top-10 sellers at Bestway in Bolton, for example, eight were price-marked. This would suggest they have quicker sell-through – more consumers trust price-marked packs, meaning the retailers are buying more from the cash & carry.
There's a fantastic stat in our price-marked packs feature in this issue, from Treasury Wines. Eighty-five per cent of convenience shoppers, they claim, would buy price-marked wine – if their local retailer sold it.
This stat was backed up in our last issue by Derbyshire retailer Rocky Sandhu. Clearly displaying the price was something Rocky said was utterly crucial. Wine sales, he claimed, will fall by 5% if the price isn't clearly displayed. 
The stigma of price-marking has disappeared. But is that reflected in what you stock? Having price-marked packs – or telling people what price you are charging – doesn't lose you money through the till, and could get you more people through the door. 
Quality brands across all categories have moved from non-PMP strategies – and alcohol is no different. Consumers want the value of the product they want to buy communicated to them quickly.
I'll be talking about the state of alcohol today, and the legislative challenges, on the Profit Zone stage at betterRetailing LIVE on October 5 with Budge Dhariwal of Budge Brands. 
Founded in 2005, Budge's range of own-label drinks have driven the company to tremendous growth. 
It promises to be an interesting session and I hope to see some of you in Manchester.