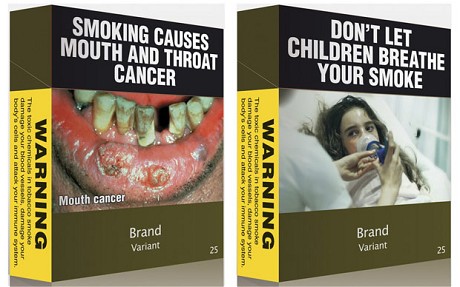 Angela Harbutt leads the Hands off Our Pack's campaign for the pro-smoking group FOREST. She has previously worked in the Television and Broadcast industry for 20 years and has also assisted a number of civil rights and freedom groups including NO2ID during its successful campaign against compulsory ID cards.

It has been a really hard couple of years for small businesses, especially retailers who sell tobacco. Whilst shopkeepers are busy preparing for the tobacco display ban, the Department of Health will be holding yet another public consultation on tobacco. Due to commence shortly, the consultation will consider the question: should government remove all branding from tobacco products and force them to be sold in 'plain' or standard packs with larger, more grotesque visual health warnings?
This policy, which has been given the go ahead in Australia, poses a great threat to retailers throughout the UK.
It seems clear that 'plain' packaging is just part of a wider assault on products crucial to the survival of of many tobacconists, newsagents, convenience stores and off licences. The health lobby say that it is "patently false" to think that "once a measure has been applied to tobacco it will be applied to other products". Yet the British Medical Association is currently demanding that graphic warnings be placed on wine bottles and wants – in their own words – "a complete ban on [alcohol] advertising as has been done very successfully with tobacco." Activists in Australia are already calling for junk food to be sold in plain packaging. Be in no doubt that plain packaging of tobacco is just the start.
Added to that, according to Ruth Orchard, director general of the Anti-Counterfeiting Group, "Plain packaging represents an invitation to counterfeiting. If put into practice for the tobacco industry, this could impact on all sectors where counterfeiting is rife. It creates a trading environment where packaging is no longer distinctive and products become easy to replicate illegally." The sale of illicit and counterfeit cigarettes is a huge problem in the UK as well as the rest of Europe. It is estimated that 190 billion are manufactured each year in China alone and 65 per cent of the cigarettes seized in the EU are counterfeit. Making packs look almost identical will make their work easier and more profitable – increasing the market share of tobacco sold by criminal gangs at the expense of honest retailers.
Forest (Freedom Organisation for the Right to Enjoy Smoking Tobacco) has launched a campaign opposing plain packaging of tobacco. The campaign, "Hands Off Our Packs",  (HOOPs) is seeking to gather as many signatures as possible from people who oppose this measure, and submit the signatures as part of the consultation.
Retailers can play their part. Here are ten ways you can help
1. Sign the HOOPS petition against plain packaging at www.handsoffourpacks.com.
2. Don't just sign the petition, become informed about the issue, You can start by reading about the "issues" on the HOOPs web site.
3. Write to your local MP telling them you oppose plain packaging of tobacco.
4. Are you a member of a retail trade association? Ask them what they are doing to fight plain packaging. They will do more if they know this issue matters to you.
5. Encourage friends, families and customers to sign the HOOPs petition against plain packaging. Email HOOPs at contact@handsoffourpacks.com asking us to send you posters, petition pads and postcards you can use.
6. Become an official supporter of HOOPS – send us a photo, your name and occupation and a brief quote about why you oppose plain packaging and we will put it on out web site.
7. If you use social media, then join us on Facebook, or follow us on twitter, or add a HOOPs web button to your blog or web site. They will all help us spread the word.
8. Write to your local paper. Better still, see if you can find five or six fellow retailers or your local business association to write as a group.
9. Are you good at talking? Do you have contacts with your local tv station or radio station? Let them know you oppose plain packaging and say you are willing to be interviewed.
10. This is your campaign as much as it is ours. Give us feedback. Tell us your ideas about how to spread the word. Help us to help you stop this.
[/box]
Email angela@handsoffourpacks.com