On 20 March 2020, Hemanshu Patel, who runs Saltwood General Stores with his wife Trushita, opened a Facebook page for his business. He wanted to promote his store to the local community and offer a new delivery service at the start of the coronavirus pandemic.
One of his first posts on the new account was a customer notice explaining how he was hoping to support the local community.
He wrote: "We have set up our Facebook page for online ordering as well as up to date information about stock levels we currently have."
How to use Facebook to promote your shop
Mr Patel was not a novice on Facebook, having launched his own page in 2014. He appreciated the power the social media platform had to offer and shared shop posts in local community group pages. The Hythe Residents Group has over 13,000 members, so the 21 comments his first post received was no surprise.
His strategy of posting a photograph and an update each day and sharing them with a wide audience worked well. The daily images showcase the surprisingly wide range of products being stocked at the small store. New lines were bought in, including bags of compost bought from a garden centre he passed returning from his daily cash and carry restocking trip.
There are two pictures, created by customers, which sum up just how much the community appreciates the service Hemanshu and Trushita provide. A thank you from 9-year-old Owen Fryer (pictured below) and a painting of the shop by a local artist (main image above).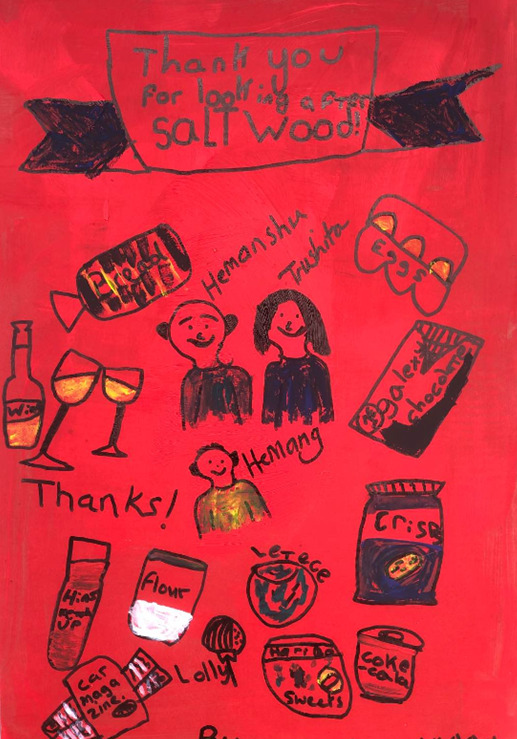 The Saltwood General Stores page has gained over 1,000 follows since it was launched and Mr Patel said most people viewing the page are local.
Using Facebook as a marketing tool has increased customer numbers and turnover. Sales are up over 50%, although he is aware the pandemic is likely to have caused some of this. But with Facebook being free to use the cost to his business was nothing!