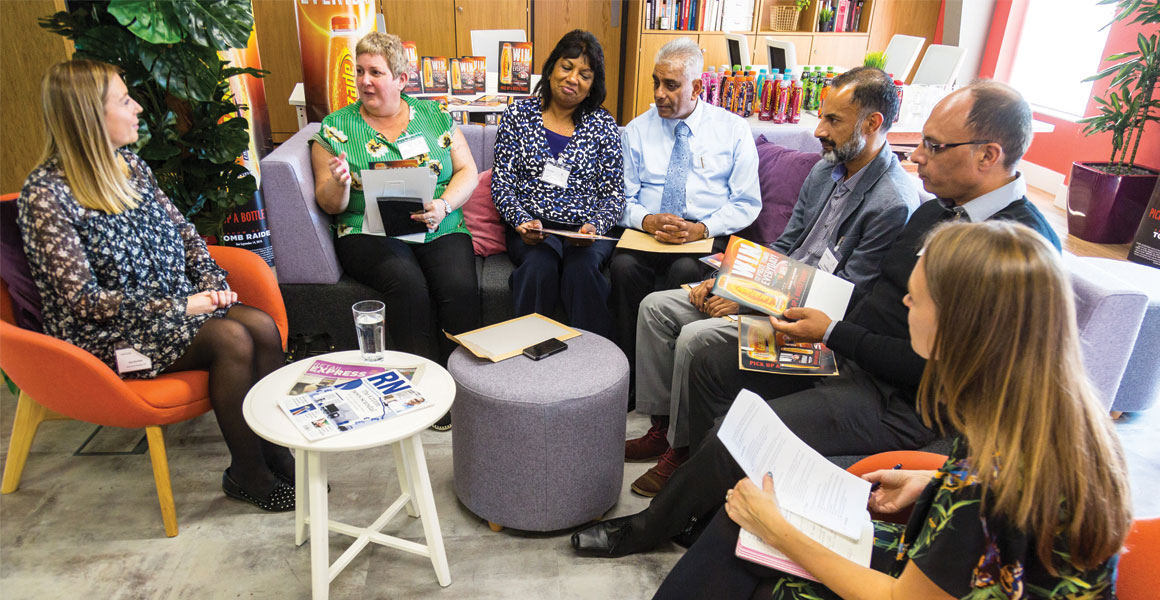 Soft drinks have been a huge focus for retailers this year, with a hot summer, a raft of activity and the Soft Drinks Industry Levy all playing their part. Four retailers, who worked with Lucozade Ribena Suntory this year to increase soft drinks sales, gathered to discuss their challenges and successes, and share advice. Louise Banham report
Anita Nye
Premier Eldred Drive Stores,
Orpington, Kent
Sue Nithyanandan
Costcutter Epsom,
Epsom, Surrey
Tariq Majid
Brookside Filling Station,
Hungerford, Berkshire
Yogi Tatla  
Dee Park Londis,
Reading, Berkshire
Lucozade Ribena Suntory
Kay Bartlett
Senior brand manager
for Lucozade Energy
Louise Banham: What challenges do you face in the soft drinks category and how do you overcome them?
Anita Nye: We have a smaller chiller with energy drinks in, but space is at a premium, so we stock what we know sells. It is really difficult to choose sometimes. We used to have 2l bottles in our fridge as well, but we've taken them out to get space for impulse soft drinks.
We have tried to put all of our energy drinks on the top shelves, as they have been selling really well for us for the past two years.
Sue Nithyanandan: The challenge is always availability, and getting stock in. We are all targeting the same wholesalers and the same supply chain. It was a challenge to get wholesalers to give us enough stock for the summer months.
Kay Bartlett: The soft drinks category is growing at a rate of 5%1 year on year, and we know that 50%2 of soft drinks are bought on impulse, so it's really important that independent retailers can capitalise on these impulse purchases. Soft drinks are the main reason3 why shoppers go into convenience stores, and almost a third4 of soft drinks sales come from energy drinks, so retailers need to ensure that energy is a prominent section of their chiller.
LB: What have been your biggest successes in the category this year?
KB: We've had very strong market growth for Lucozade Energy so far in 2018 and we've put a lot of investment behind the brand. This included new Larazade Croft Apple becoming the third bestselling drink5 in our 380ml pricemarked flavours, and investment in marketing the Lucozade Zero range through a partnership with Love Island.
This has doubled awareness of the product and contributed to a market share high since it was launched in 2016. We also ran a competition for retailers across all our core brands over the summer where we gave away £5,000 every week for 12 weeks.
AN: The last promotion we did – where shoppers who bought a bottle of Lucozade could get a Larazade Croft Apple for free – was absolutely crazy. It was a simple thing, but we gave so many away, particularly in the morning.
SN: Soft drinks sales really took off over the summer. I think everyone's did, but it's not dropped down too much since the beginning of September. We are still getting new advice from the reps, which helps.
LB: Have you been affected by the introduction of the Soft Drinks Industry Levy? What impact has it had on sales?
AN: Customers come in wanting a soft drink and notice it's gone up in price, so we tell them that, unless they buy the diet version, it has to be more expensive, and they accept it. It's another thing we have to explain that people didn't know about.
We felt a bit let down by the lack of information from the Government when it was introduced because we were left to pick up the pieces.
Tariq Majid: It was confusing at first, especially when you have the diet drink next to the regular drink with a different price, but once you explain it, people still buy what they want to buy, so it makes no difference in sales.
Yogi Tatla: My shop is positioned on an estate where we have a lot of school children and a lot of students. We found they have shifted to cheaper brands because they only have a certain amount of money, but adults still buy the same product as before. Brand loyalty has shifted as budget is more important and we've changed our range to accommodate that. We are stocking a lot of cheaper brands.
SN: I really haven't seen a change. I think if people want to buy something, they will. We sell a lot of pricemarked products, so Original and Caribbean Crush Lucozade are in pricemarked packs (PMPs) and people love to buy those, but I don't think people have stopped buying full-sugar drinks because of the tax.
KB: Yes, we certainly haven't seen buyers put off by price rises as our investment in reformulation has meant that all of LRS's portfolio is exempt from the sugar tax.
This means shoppers have been able to continue to find their favourite brands on your shelves with no change in pack sizes or prices as a result of the levy.
LB: How is pricemarking affecting the category?
YT: We have had to bring in PMPs to help with customer confidence because of rising prices – sometimes up to 20% on certain products. We bring in PMPs and when we revert to non-pricemarked packs some of the customers are able to accept the new price, others are not.
AN: We've always had PMPs and we always do well by them because we have such a mix of customers – with social housing, private housing and schools nearby, they just prefer them. As a small shop, it is especially important because people always assume that we are more expensive than a larger shop.
But with PMPs they can go next door and see that it is the same product at the same price. People are more cautious about what they are spending, and being able to clearly see the price of something is helpful.
TM: In forecourt retail, I don't think it is as important as it is in a regular convenience store.
YT: Pricemarked for us can make a difference between selling one case a week and five or six cases a week in energy drinks. It is that different.
LB: With the reduced price margin, is it worth it for the volume you sell?
YT: Absolutely. We make it up.
SN: Sometimes, there will be a promotion on non-pricemarked drinks – say, two for £2 – then we have the pricemarked packs as well, so it can be confusing.
KB: Because there are different types of shoppers who want different things, we want to offer something for everyone. Each individual retailer has a different expectation from their shoppers.
We know 76%6 of shoppers think PMPs improve a store's overall price image by showing them they're getting the best value.
LB: What is the most effective PoS material in your store?
SN: For me, dump bins are really good, and also dump bins with the bling on them and lights really catch people's attention.
AN: We have a very small shop and don't have the space for dump bins, so we rely on things such as shelf wobblers. PoS is important for us.
KB: We know that effective PoS can really tempt shoppers and gain a 25%7 increase on purchases in store because it grabs their attention, so we spend a lot of time making sure that we have effective promotion packs.
TM: My concern with PoS is how much paper it uses – it's not great for the environment. I do have some screens for adverts, though.
KB: What response have you had to our TV campaigns this year?
SN: The Love Island campaign was really good because a lot of people watched it, and we sited the Lucozade Zero Pink Lemonade by the till, which sold well, but we didn't get any offers from wholesalers at that time. It would be nice to have the wholesalers supporting us.
LB: How well have different flavours sold within the energy drink sector?
KB: Over the summer, all our flavours – bar one – were in double-digit growth. In the past year, Lucozade Cherry had 66%8 growth and 60% of its buyers only buy Cherry.
It tastes great, and although there are, of course, cherry flavours from, say, Coca-Cola, it is still quite a different product.
AN: Yes, that was our third-biggest Lucozade Energy seller, but the Croft Apple flavour has jumped ahead of it. Even though we have a small shop, we sell Lucozade Original, Orange, Caribbean, Apple, Cherry, Pineapple, Pink, Pink Zero and Brazilian.
KB: Do you think that is because there are a lot of younger people coming in to your shop? We do not market to under-16s, but flavours do skew towards younger buyers between 16 and 21.
AN: Yes. There's also a gym nearby, run by the public, and there is a boxing academy as well, so even in the evenings they come over and buy energy drinks. In the evening, there can be several football teams playing nearby, and when they come over it can be a bit mad. They tend to go for Lucozade, followed by the Euro Shopper 39p can. We also now we have the litre Lucozade bottles for £1.
YT: With the litre bottles, it only sells for us when it's priced at £1.
KB: It does sell in pricemarked and also non-pricemarked packs, it just depends on the shoppers going into stores. We have found the sales are strong from a total market point of view. How do you choose which flavours to bring in?
TM: You have to get all the flavours in when they are new to get to know which are the bestsellers, but we do not keep all of them. Apple is our best-selling flavour at the moment.
AN: A lot of it is just trial and error. We will always bring something new in, but if it is not selling at least two or three cases a week, then it will just sit there, so it is not worth it.
YT: If my rep came in and said, "If you buy this, I will give you this new product," I would do it because it's something new that will create interest, providing theatre in our stores.
We are independent, so we can stock whatever we want, compared to the multiples, so we need to pay attention, and if I have someone coming in and dangling something in front of me, I will not refuse.
SN: I've got a younger team and they are really the ones who inform me of what to stock. They try everything and tell me about it. In soft drinks, mango and passion fruit were strong flavours this summer.
YT: A lot of people are buying into coconut – we are seeing a lot of coconut water and coconut milk.
LB: What's the one piece of advice you'd give to other retailers?
AN: Don't be afraid to try new things. Listen to the reps, but also go with your gut instinct. Nobody knows your customers like you do.
SN: Study your target area and your customers and arrange your goods according to your demographic. We have a lot of young people, so we stick to a lot of items appealing to them.
YT: For an increase in soft drinks sales, it is about creating theatre in the store. The whole market has shifted and everything is about a brand, even the brand of the store. I find that if I throw energy behind something it will immediately sell.
LB: Looking to next year, what will you focus on to grow sales?
SN: The whole emphasis on health and wellbeing. Well, kind-of healthy – less sugar and more protein. I am finding things like Lucozade Zero can be brought into my meal deals, and I'm bringing all that into that range. Also how we can offer more sustainable products.
Sustainability is very important for us. We have a lot of initiatives internally where we have teams working on how we can enhance the recyclability of our packs. Our packs are made of recyclable plastics.
Unfortunately, a lot of the plants in the UK are not able to recycle both the bottle and the sleeve, so we are constantly evolving and looking at ways to increase our recyclability.
YT: For my business, it is going to be about margin control. It's the thing I grapple with most because prices have risen, and it is harder and harder to maintain margins.
I am working with someone on a strategy for it. I have three stores, so it is a complicated strategy. It is too much for me to deal with, so this person is coming in solely to deal with pricing.
TM: I am getting more fridges this year to both replace old fridges and increase the amount of space we give to chilled.
AN: We have got new chillers and are trying to be more energy efficient. Our wine chillers have doors on them, but, obviously, for food we didn't want doors, so we have a company coming in to put on door scoops. It fits on the front of the chiller and catches the cold air and puts it straight back into the fridge.
We are also focusing on health, particularly with all the schools around us. We want to have people choosing healthier options without us telling them.
We recently launched a loyalty card for children to encourage them to be healthier and we'll be pushing that through to next year.
KB: From our perspective, there is a significant amount we have invested in marketing in 2018 and this is something we will continue into next year.
We want to ensure that we have an even bigger and better 2019. I also think, like with the Soft Drinks Industry Levy, it is really important that we support independent retailers with information to help them communicate changes to customers.
1 IRI EXT Symbols and Independents, latest 52-week data ending 26.08.18, 2 IGD Food to Go 2016, 3 HIM! Food to go study 2016, 4 IRI EXT Symbols and Independents, latest 52 week data ending 30.09.18, 5 Booker + Bestway Salesout data to 22/9/18, 6HIM Wholesale Hot Topic 2016, 7 POPAI,
The Grocery Display Effectiveness Study, 8 IRI EXT MarketPlace , latest 52 week data ending 30.09.18