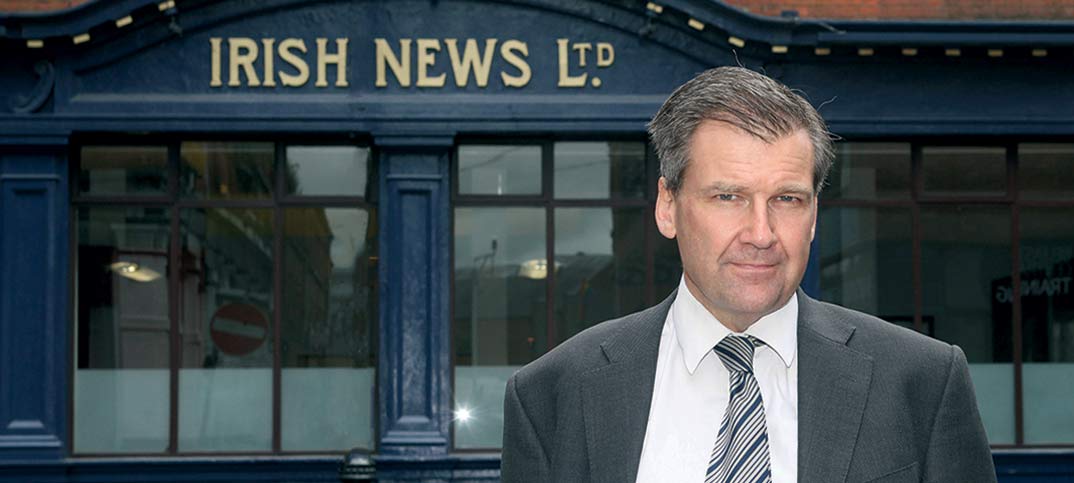 Much has been written about the difficulties regional papers face, but some titles continue to thrive. The Irish News is one such example and its editor Noel Doran is committed to the future of print. Darren Rackham met him.
As all the best independent retailers know, being at the top of your game and staying there is tough. But for newspapers, with so much competition from online and elsewhere, the past few years have been particularly challenging.
 In the UK, several regional titles' print readerships have vanished entirely, resulting in mergers or closures. As RN regularly reports, circulation (and margins) have been on a downward spiral year-on-year for most national titles too.
 Falling sales have also affected footfall, and where titles have folded, some independents, as reported in RN's letters pages, have lost out significantly.
 However, against this gloomy backdrop, there have been chinks of light.
 In the national market, the launch of the i has managed to capture readers' imaginations and sales have soared.
 Meanwhile, in the regional sector, the Liverpool Echo had enough confidence in its readers to launch a Sunday edition in January, with its focus on sport said to be the driving force behind its steady sales.
 Another title putting much of its success down to its excellent sports coverage can be found north-west of Liverpool, just across the Irish Sea, in Belfast.
 The Irish News, a daily priced at 70p, has been named Regional Newspaper of the Year in the 2014 Newspaper Awards. The accolade is just the latest in a series the title has accumulated in recent years. With a circulation of more than 40,000 – higher than all but a handful of UK regional papers – and with many of its sales made through independent shops, RN decided to catch up with editor Noel Doran to find out if the magic formula could be bottled and passed on to other publishers. 
[pull_quote_right]We try to provide indies with good point of sale material and promotions[/pull_quote_right]
"The award was judged by fellow journalists, so it feels even more significant," he says. "You have to demonstrate your range of news, sport, features and how you've developed in certain areas. You show how you hold politicians to account and how you interact with readers. All those areas seem to go down well with the judges. You need to make the effort to enter as many awards as you can.
 "The regional newspaper industry has faced a difficult time. Everybody's losing sales, but our drop last year was just 1.7%. Most titles' falls, were in double figures. I think the average was 14%. I'm sure that having a strong circulation helped us win too."
The Irish News was established in 1891. It was a broadsheet up until 2000 before briefly switching to the Berliner format – think of The Guardian – but then later settled for a tabloid-like compact format.
 Mr Doran says: "Initially we were worried about what our readers' reaction would be but then we saw circulation go up and advertising increase. In 2005 we opened our own press.
"That was difficult to sustain so we now also do a lot of other contract printing as well which brings in extra revenue."
 One of the main reasons he cites for print decline is the internet and the freely available editorial content found on newspaper websites. Then, of course, there's also the BBC. Many national papers learnt their lesson and now operate paywalls or subscription-based access. RN asks what the Irish News has done to compete digitally?
 "We looked at other titles putting their content online for free with the aim of making money on advertising, but they didn't make any. Their print sales dipped dramatically too. We offered online subscriptions but not many people took advantage of that, preferring to pay for the printed version.
 "Our big initiative six or seven years ago was to do video journalism. We spent a lot of money on it and we tried very hard to make it work but the public didn't really want it. And we couldn't compete with the BBC and its massive resources."
 There seems a certain irony to this when Mr Doran talks about recent stories from the Irish News picked up by the BBC, including the ongoing furore over Northern Ireland's first minister Peter Robinson and his misplaced defence of anti-Islamic comments made by pastor James McConnell.
"It was a story we broke. One of our reporters recorded the first minister making these comments and we decided to run with it.
"We gave the tape to the BBC and the next thing we knew, they were doing a piece on Newsnight. And it was this huge story and the minister has since been forced to apologise."
 Noel recalls other cases under his 15-year editorship where news organisations have been left chasing the Irish News' tail.
High quality reportingon the murder of Michaela McAreavey while honeymooning in Mauritius with Gaelic football star John McAreavey in 2011, for example, raised the title's profile and – although a tragic story – created additional sales.
 "It's mainly sport, particularly Gaelic football and horse racing, that sells here and we cover both well. And politics. There's no opposition in Stormont like you have in Westminster and so it's up to us to hold the politicians to account. You do see a sales spike with those big stories."
You still get successful independents that are selling between 200 and 300 copies of the Irish News every day
Retailers in Northern Ireland reap the benefits of these big stories converting into sales. Additionally, the paper's focus on sport is drawing a large number of 18 to 24-year-olds into its readership, suggesting that its printed version has a strong future.
 But how many of these Irish News retailers are independents? And what's the paper's relationship with them like?
 "I would say the proportion of independents is high. It's particularly healthy outside Belfast where a large majority of our sales are made. You still get successful independents that are selling between 200 and 300 copies of the Irish News every day.
 "We give people a good reason to go into these shops. In some towns, the independent is the only retailer and if they have 300 people coming in every day for the paper, well, those customers are not just going to buy this one item, are they?
 "We always try to provide indies with good point of sale material and promotions. Our personal contact with them works well and our recent True to Our Words promotional campaign to show off our high standards and bonds with readers was of great benefit to them in sales terms."
 And what display advice would he give independents to further push those sales?
 "It's important that the paper is always properly displayed. The front of our paper is our main selling point. People need to see that. Some of the bigger retail groups just pile them up, sometimes still in their bundles with the straps on. We get reports from readers about that quite a lot.
 "The main thing, is to show it in the best way that they can – don't leave it behind the counter."
 Before Mr Doran heads back to his newsroom, RN asks if there's anything else that has been pivotal to the paper's success.
 "The Irish News is unusual because it's family-owned," he says. "There are very few family-owned daily regional titles. We have a continuity of management and a consistency in high standards and this has always been a big plus for us."
 Now doesn't that sound like a successful independent retailer?