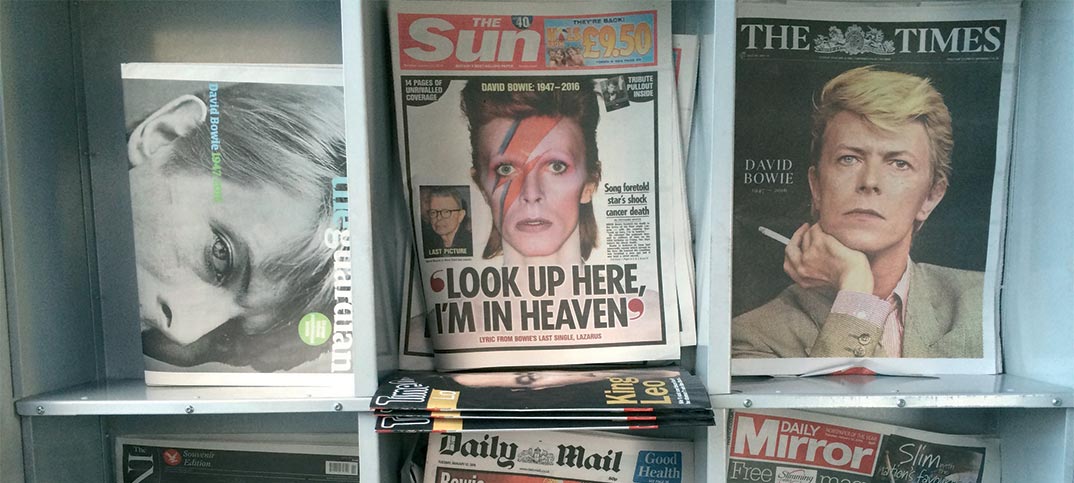 "Don't lump us in with other publishers," was the resounding message from a News UK boss as he defended the company's decision to cut retailers' margin on The Times by 2% as crucial to sustaining the future of the title.
In an exclusive interview with Retail Newsagent, chief customer officer Chris Duncan said that The Times had reached a tipping point of being more of a subscriptions business than a casual sales business – something he believes to be crucial to protecting the long-term health of the title.
We believe this is the way to protect the long-term health of the product says Chris Duncan, News UK's chief customer officer
"Today, just under a half of people who buy The Times will hand over a voucher because they paid for it three months ago. But by the summer it will cross over and the minority will become the cash edition. We've reached a tipping point of The Times being more of a subscription business.
If you look at the quality market over recent years we have been the standout performer. We have been newspaper of the year, we continue to invest in quality journalism and the product. We want to extend the life of print as far as we can.
The biggest thing that drives subscriptions is the gap between the headline price and the subscriber price. If we put prices up it drives people into subscriptions. Working with two prices means the relationship between pricing and retail margin has changed.
Retail margin runs off the headline cover price of £1.20. Yet, half my sales are at 80p and half are at £1.20 and we pay 23.5% on the Monday to Friday Times on both of those types of sale. It means what we're paying is 23.5% margin on casual sales and an effective margin of 35.3% on subscriptions. 
If you don't manage the relationship between your anchor price, your subscription price and your retail margin, you quickly reach the point where you see no benefit of increasing price. That isn't good for the industry, because if I can't manage price over the next 10 years, I'm going to have to manage volume and this means a guaranteed decline of RSV.
Charging one margin for a subscriber and another for a casual purchase is an impossible task. Your other option is if I pay 22% on my subs and 22% on casual, you get to an effective margin of 18-19%, which is pretty unpalatable for retailers too.
I see a world in which The Times will probably become a de facto subscription business with a small casual sale, maybe 80:20. If we're going to do that we're going to have to adjust. The price of the Times will go up to £1.40 and we'll take margin from 23.5% to 21.5%. Retailers will go from 28p a copy to just over 30p. 
We're asking retailers to understand that this is an adjustment based on the realities of the business and that we'll manage as sensitively as we can that transition, from a margin paid on the headline price to a margin paid on subscription.
We need retailers to work with us. We've put a bounty for any retailer who can bring us HND customers. But we can't deny the realities of the model we've built, so bear with us. While we're delivering increased pence per copy and trying to manage this for the long-term, you have to believe we're a friend of retail."
I'm not so sure….says Neville Rhodes, RN columnist and former newsagent
"Mr Duncan might want us to think the latest terms cut, this time from the Times, is somehow different, but his arguments don't bear scrutiny.
Firstly he says the newspaper is about to "cross over" to a situation where its subscription sales are larger than its cash sales. This is only the case if you count bulk sales as being subscription. Without them, Monday to Saturday sales are 347,000 and subscription sales are 140,990, meaning that rather than being at 49% at present, the true figure is 40.3%.
And even if this were the situation, promoting subscription sales by widening the gap in casual and subscription prices is effectively driving people away from the higher priced sale, which cannot be good for retailers in the long-term.   
In truth, newspaper publishers cut trade terms because they can. Most of them have been doing it fairly regularly for the past 25 years, so they know how easily it is done.
In the case of the forthcoming increase on the Times, there will be a 2% cut to the trade margin, from 23.5% to 21.5%.
There are three reasons why the publishers have been able to get away with moves like this. Firstly,  I suspect they offer the major retailers a compensatory deal – perhaps a bigger display allowance, an increased over-rider, more involvement with the newspaper's own promotions. Perhaps even some free advertising.
The second reason is that publishers know that HND agents are able to make up all or some of the reduced percentage profit margin on the newspaper by raising their customers' delivery charges.
Thirdly, a rapidly-growing number of retailers now sell so few newspapers that a 1p or so less than a pro-rata increase on one title hardly registers.
The retail trade may have learned to live with terms cuts but that does not make them acceptable. To reduce discounts without any consultation with the trade, as the newspapers have been doing, is sheer arrogance.
Reluctant as I am to say this, if I were still operating as a newsagent myself, I would start to fight back: not in ways that might damage my own business, but simply through non-cooperation. I wouldn't provide the extra facing publishers request; I wouldn't extend my normal HND delivery area in order to accommodate one of their new subscribers – unless it suited me; and I'd struggle to work constructively with a rep from a title whose bosses don't treat the retail trade with respect."