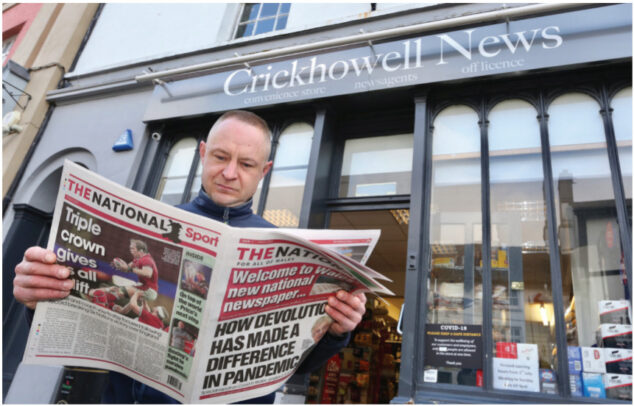 New Welsh newspaper The National sold out and had to be reordered by many retailers, according to editor Gavin Thompson.
Publisher Newsquest first announced it would be releasing a new national title for Wales in February, set to launch on St David's Day (1 March).
Despite not being able to share specific sales data, Thompson told betterRetailing the response from independent retailers had been "amazing".
Furlough driving newspaper demand among younger customers
"We've had people contacting us on social media, taking pictures of themselves with the paper and saying how pleased they are to see it," he said. "We've also had to restock a number of stores, which is a very positive sign."
Home news delivery agent Jonathan Powell reported sales success with the first edition, but claimed the publisher and wholesalers failed to provide enough notice and promotion among retailers prior to launch, with even margins remaining unknown to him during the on-sale period.
Thompson confirmed retailers can receive a 25% margin on each edition's £1.10 cover price.
Thompson said each edition will be treated as a "one-off" as they are yet to decide on an official timetable.
Panini's upcoming Euro stickers could drive £40m in sales
"We've started with a small team and we're only doing print editions occasionally," he said.
"As we grow subscribers, we'll grow our team and be able to do more."
It's been announced the next print edition will be published in early-to-mid-April, with an exact date to be announced soon.
Several retailers reported sales success with the title on its launch, but some claimed "there wasn't a lot of interest".
Vince Malone, owner of Premier Tenby Stores & Post Office in Pembrokeshire, said: "We've sold about four copies. It hasn't been successful for us."
EXCLUSIVE: Menzies 'evaluating' carriage charges after rivals freeze retailer fees
When asked the reasons behind the title's creation, Thompson said: "Wales needs a stronger national media. If you compare it with Scotland, where there are several national titles, Wales is very lacking," he said.
"The pandemic has made that very clear, as people read news from English sources and don't understand the different rules and restrictions specific to Wales."
Thompson added there is scope for the title to become more regular in the future. "In the longer term, it could become a weekly or even a daily print title, but for now we want to be flexible and make our print editions an anticipated event," he explained.
Retailers wishing to stock The National are advised to contact their wholesalers.