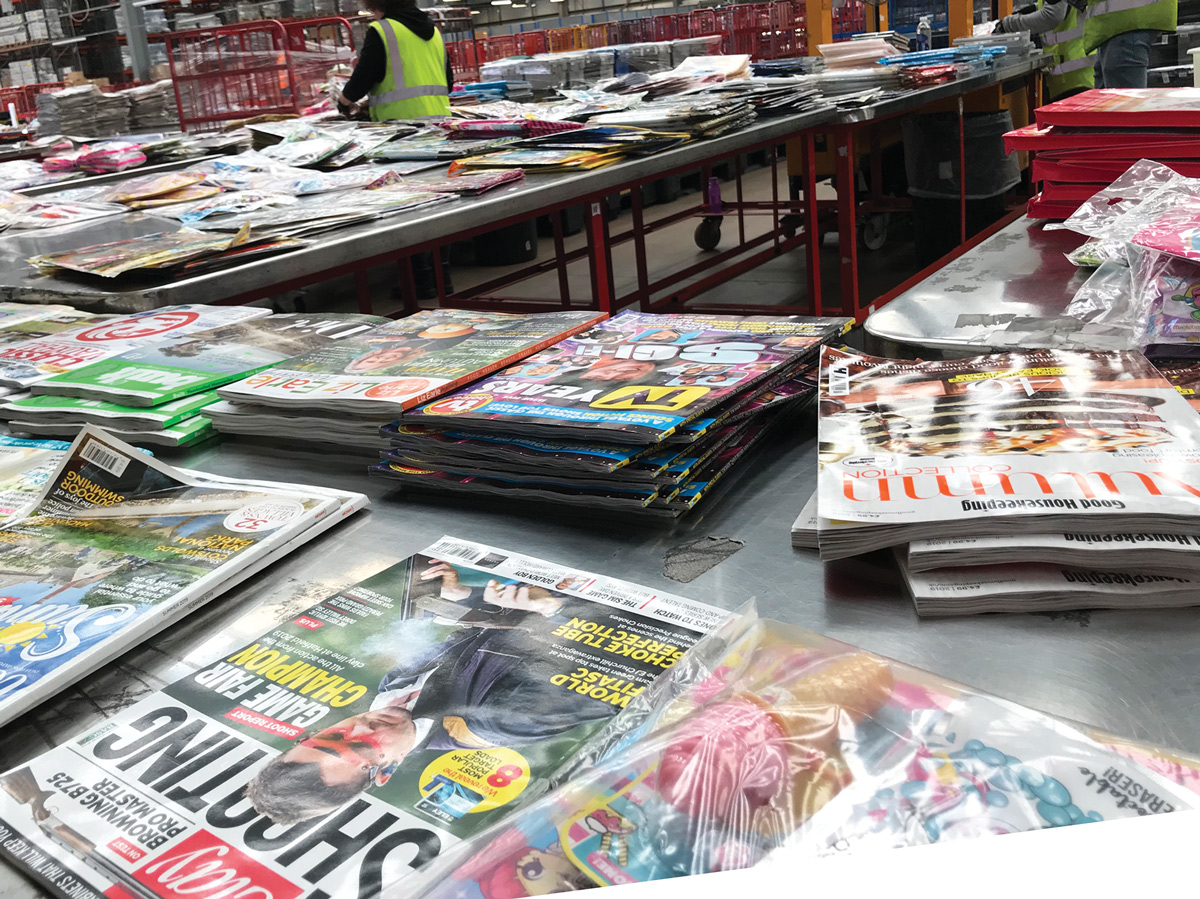 The future of the category
Smiths News has a 55% market share of the UK newspaper and magazine wholesale market, serving tens of thousands of independent retailers with a full array of titles every day. However, the market is changing and the publisher's investors recently challenged whether the model is sustainable.
Smiths News chief executive Jonathan Bunting accepts that falling circulation, rising costs and tighter time margins make the company's job increasingly difficult, but refutes the investor's comments.
"We don't have any sustainability concerns," he says. "We forward plan five years in detail and 10 years in outline, so we don't have any concerns about how the market is projected to behave. We have renegotiated all of our publisher contracts, with the exception of the Daily Mail, and they are all for five years. Part of that process was demonstrating to those clients that we are a sustainable business."
Part of this is ensuring that the category is also sustainable and appealing to news sellers, and this means improving delivery standards. Retail services director Simon Gage explains: "We are trying to demonstrate we take things seriously. There are areas where we are trying to improve our processes to make them run more smoothly."
Customer service
Gage says a change in focus has led to the wholesaler now focusing "on the 0.8% of deliveries that go wrong, not the 99.2% that go right".
Regional director Rob Drummond adds: "We accept that despite the level we have achieved, we can do better. Errors are occurring and we need to always look to reduce them, regardless of what we are doing in volume terms."
Smiths News said its app, SNapp, is vital in addressing these failings. The company claimed the number of retailers using the app increased 19% over the past year and Gage emphasises that when retailers engage with SNapp, it makes managing and reducing issues easier.
"We have been continually trying to develop SNapp so retailers can do everything on the app that they previously would have called us about," he says.
"We also try to track what customers want to be able to do and we will continue to develop SNapp. If we have as much accurate data as possible, it helps us improve our service."
Publisher delays
Despite efforts to use customer data to improve delivery timings, an increasing number of delays to stores are beyond the wholesaler's control. 'Trunking' (the merging of different publisher titles onto the same trucks into wholesaler depots) and publisher delays can make it "impossible" to reach stores on time.
betterRetailing asked how Smiths News would break the pattern of publisher lateness. Gage answers: "In some respects, we can't win. Unless we go to the stage where we rerun everything, there is no incentive for the publisher to deliver on time. Unless penalties are there, the publishers don't have the incentive to come in on time.
"We are having these discussions and they include negotiating scheduled arrival times and trying to ensure they hold and meet those." Discussing trunking, Gage adds: "No one has any slack in the supply chain. The reality nowadays is that there is no chance to catch up the lost time from delays, which is why service issues appear."
Read more: Smaller magazine tote boxes announced by Smiths
Asked what was driving publisher lateness, Bunting explains: "Firstly, vehicles end up sharing loads, which is absolutely fair, but it can create tension in the supply chain due to lateness. This is the battle with making sure they don't go out of business and meaning our retailers have fewer products to choose from.
"Secondly, newspapers have changed, and because of digital, the physical product is less about breaking news and more about comment and insight. Thirdly, we have seen a reduction in the number of retailers doing home news delivery but a smaller number of delivers providing a larger service. Therefore, they have the requirement to receive their product even earlier because they are conducting a scale operation."
Automatic restitution
On 2 September, Smiths News began automatically providing £5 credit to any store that experiences a news delay of more than two hours. However, some retailers decried the level and required delay length as being unrepresentative of the impact on stores.
Gage says: "It doesn't matter what retailer you are, we'll run a report each week and credit the next invoice. We're not trying to blame who was responsible, it doesn't matter if it's the publisher's fault, if there was a traffic accident, or even as happened this week, we have a van stolen while out delivering."
He adds retailers are still entitled to go through the formal restitution and complaints process with the Press Distribution Review Panel.
Read more: Smiths News to help retailers tackle heavy bundles
Commenting on whether the scheme will be enhanced in the future, he says: "Over time, we'll have to understand if there are other areas where we're materially short in our service, we'll have to see what we can do."
Asked about the annual cost to Smiths News, he answers: "It will cost us a five-figure sum, definitely." Bunting claims the impact of the scheme will go beyond its customers. "I'm not sure what Menzies is going to do in response, but I'm sure it'll do something so it will drive accountability in the supply chain," he says.
Publisher distribution trials
Egmont raised alarms when it announced it was trialling two-tiered distribution, which meant several titles would be sent to multiples first, before the unsold copies were reissued to independents many weeks later. Gage says the results of the test have so far been inconclusive. He claims: "Egmont haven't yet determined whether the two-tiered distribution model has been a success." Gage adds that Egmont feels the distribution style could allow more independent retailers to receive its titles by reducing the risk of waste.
While unaware of any other publishers trialling two-tier distribution, he expects more publishers to follow Reach's lead in using cover price changes to fund greater availability and distribution, "to find their optimum sales".
Making news and magazines work for retailers
Aldi announced this summer that it will stop stocking newspapers and magazines, with an expected removal of the categories in October. Sources previously revealed to betterRetailing this was due to poor merchandising and returns handling by Menzies-owned Fore, which had harmed the profitability of the categories in the discounter's sites.
Smiths News admits there is an escalating trend of independent shops also exiting the news and magazines category.
Bunting says Aldi's decision had heightened the board's awareness of the importance of making the newstrade work for retailers. "We are very aware of the need for our retailers to make profit from the news and magazines category," he says.
Read more: New Smiths News app to help retailers manage paper deliveries
"We need to look at our own service and see if we can simplify the way in which we do business so our retail customers can spend less time managing the category. It's difficult for us to create a step-change in the macro market, so our role is about minimising shrink to get better returns," adds the chief executive.
Gage gives the example of working with the NFRN and Newspro to "help retailers to have the right range and display for their stores", and work to make it easier and more profitable for stores to stock partworks.
Bunting adds that Smiths will endeavour to keep costs down for its retailers. "If you look at our recent carriage charge increase, it was very modest and we are mindful of its impact," he says.
Asked how it was working to keep carriage charges down, he adds: "We always look at internal efficiencies so that we are managing our cost base as tightly as possible to minimise the costs we have to pass on to retail customers and our publisher clients."
Other services
Smiths News owner Connect Group has sold off two services that utilise its store distribution, leaving newspapers and magazines to cover a larger share of the costs of its delivery operations.
Bunting says coffee machine operation Jack's Beans was sold because "we found launching a consumer brand much more difficult… we don't have the skills to launch a coffee brand to compete against the likes of Costa".
Asked about click-and-collect service PassMyParcel, the chief executive answers: "We couldn't make it profitable. We ran the operation for three years and built up a reasonable amount of volume. Our largest client was Amazon, but it was loss making. When we looked at the future forecasts, we couldn't convince ourselves that we could make the level of profit that would make a difference to a business of our size."
However, the company is still looking for ways to utilise excess capacity, such as through reverse logistics. Commenting on the closure of the two services, its chief executive adds: "This doesn't mean we wouldn't consider different projects in the future."
Read more: How can newsagents keep their sales strong?