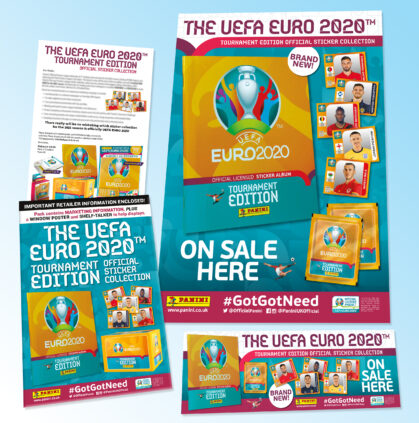 Independent stores are to be given access to free promotional material to help them grab a share of Panini's £40m UEFA Euro 2020 Tournament Edition sticker sales opportuniuty.
The collection, 'The UEFA EURO 2020 Tournament Edition' launches on 25 March 2021 with 678 stickers to collect featuring statistics and facts about the competition. A major media blitz across national newspapers, TV, social media and radio will help drive interest and footfall in stores, according to the publisher. This includes 1.6million albums given away free with The Sun on 3 April.
Free promotional albums will be sent to 10,000 independent retailers. Stores can also request to receive window posters, shelf talkers, floor standing display units and branded shelf clips by contacting Panini at rsmith@panini.co.uk.
With the launch and tournament coinciding with the planned easing of lockdown, Panini suggested the collection looks set to benefit from the public excitement around the return of attended major sporting events. A spokesperson told betterRetailing: " There's huge anticipation for the nation to get behind something exciting this summer, so it's not only children, but young men and dad's that collect, with nostalgia playing a huge part in hooking in the adult audience."