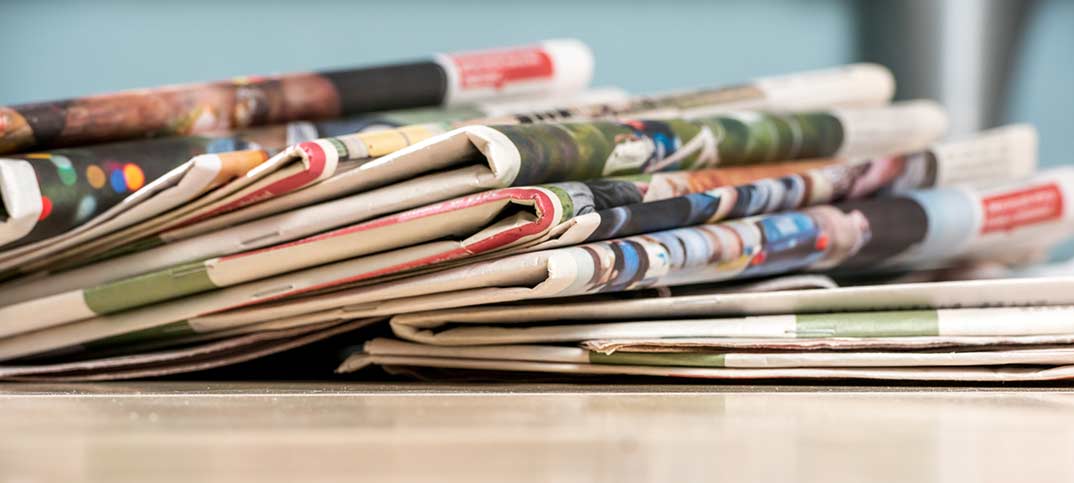 Several newspaper publishers are researching a "radical plan B" for taking over the operation of the news supply chain in the event of a wholesaler collapse.
Sources confirmed that senior newspaper industry figures have been involved in examining the financial viability of Smiths News and Menzies – both of which have either closed or are consulting on closing depots in response to the impact of the coronavirus pandemic.
The sources described Menzies in particular as "a concern", citing the impact of falling circulations, alleged compensation claims by publishers related to supply issues at its Coventry hub and the fallout from Aldi terminating its agreement with Menzies' merchandising arm, Fore Partnership.
Read the latest ABC circulation figures
However, Menzies strenuously denied the reported financial concerns and cited that it was recently named by the Sunday Times in its annual list of the fastest-growing private UK firms.
The NFRN claimed newspaper publishers are looking for "a competition waiver to bring the industry together to discuss the future of the supply chain" in relation to the damage to the sector caused by the Covid-19 crisis.
One industry insider claimed the talks set the stage for potential regulatory approval for a new model with just one monopolistic news wholesaler "financed and supported" by news publishers.
Instead of a relationship with their news wholesalers, retailers would have agreements directly with publishers.
NFRN 'appalled' by new Smiths News carriage charge increase
The threat of a wholesaler collapsing is seen as a major point of leverage in making the government consider the newspaper-led proposals. One publishing sector veteran explained: "From a government point of view, circulation decline or retailer margins wouldn't be a top priority, but Scotland suddenly not having access to newspapers and magazines would be."
betterRetailing can confirm that discussions between the Department for Digital, Culture, Media & Sport (DCMS), multiple retailers, trade groups and news publishers have taken place, with John Whittingdale, minister of state for media and data, looking into current issues within the supply chain, including retailers' carriage charge concerns.
In response to news publisher calls for a competition waiver, the NFRN and ACS sent a joint letter to Whittingdale, calling for changes to carriage charges, requested delivery times, the regional monopolies held by each wholesaler and coupon redemption processes.
The Big Issue looking for 'strategic ways' to partner with local shops
NFRN national president Stuart Reddish said these topics "must be up for discussion" as part of any collaboration between the government, publishers and wholesalers.
ACS chief executive James Lowman said the convenience sector had made "repeated attempts to engage with the industry to promote good practice at each stage of the supply chain for a number of years now. Sadly, convenience retailers are still contending with inefficiencies in the supply chain".
Reddish said: "We stand ready to engage with publishers, wholesalers and the government to build a news supply chain that is fit for the challenges of 2020 and beyond."
Future of newspaper supply chain challenged
However, one senior source at a newspaper publisher warned that the trade groups "should be careful what they wish for". They said a removal of the carriage service charge model would probably cause a severe reduction in retail margins to as little as 10%.
Industry experts added that the push for changes to the supply chain is being led by newspaper publishers due to the magazine sector being preoccupied with "severe challenges", with warnings of cost-cutting exercises underway at leading distributors.
"Nobody is in a position to do this but the newspaper publishers," said a senior source.
A spokesperson from Menzies responded: "Menzies Distribution is confident about our ability to fulfil the role we play in the newstrade supply chain, now and for the future. We are proud to play a part in the newstrade end-to-end supply chain and we are committed to ensuring a sustainable route to market.
Retailers demand magazine publishers offer in-store subscriptions
"We have successfully delivered our vertical integration strategy within newstrade and we are the only wholesaler who has successfully diversified into adjacent markets supporting our core newstrade business, including logistics and parcel distribution; partnering with retailers and delivery consortiums in the delivery and collection of Covid-19 swab test kits, and the NHS in delivering vital PPE. Menzies Distribution is performing strongly; profitable and cash generative."
Jonathan Bunting, CEO of Connect Group PLC, said: "The sustainability of our supply chain must always be paramount, but despite some understandable concerns given recent events, the current model remains remarkably robust.
"Throughout the coronavirus crisis, our operations – and those of our industry partners – have been stress tested to an unprecedented extent. And yet, by working together, we've maintained service and supported communities across the UK. It's an achievement we should all be proud of and one that stands in stark contrast to many other supply chains.
"As our recent trading statement confirms, Smiths News has a strong and sustainable business model. We now have an undistracted focus on newspapers and magazine wholesaling, a commitment to investing in service and every confidence in our collective futures."
Find out more on our coronavirus information hub for retailers