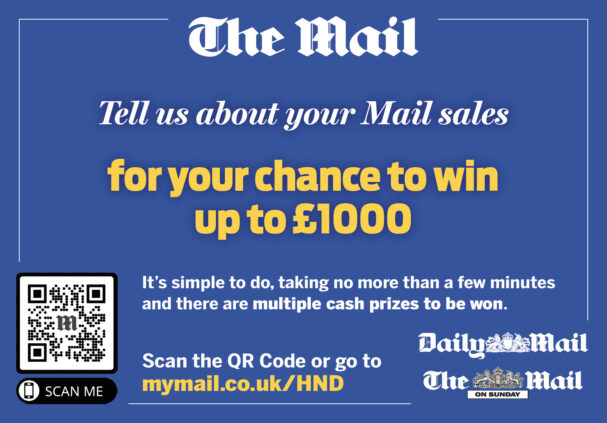 Daily Mail publisher DMG Media has launched a scheme offering home news deliverers (HND) better allocations, stronger sales and a chance to win up to £1,000 in cash.
The NFRN and RN-backed DMG Group initiative sees HND outlets provide their Daily Mail and Mail on Sunday delivery volumes.
The process takes less than two minutes and once verified, supply of HND copies of the titles will be 'ringfenced' to reduce incidents of short supply, resulting in higher sales at the doorstep and over the counter, especially during peak periods.
HND agents will also be entered into a draw with prizes of up to £1,000 up for grabs.
A similar trial with the NFRN in December saw 200 members provide their delivery volumes. The NFRN said it led to 'strong Mail sales throughout the festive period' and helped stores capitalise on 'increased counter sales demand.'
Graeme Pentland, owner of Ashburton Village Store in Gosforth, Newcastle upon Tyne said: "Having the opportunity to supply figures in advance of a key trading period to the Mail was fantastic. I didn't have to worry about fulfilling my guaranteed HND customers and had the comfort of knowing that I had enough copy in my store to maximise the sales opportunity the festive period presented."
DMG Media senior national account manager Andy Law said: "I would encourage all deliverers to adopt this collaborative way of working with Mail Newspapers, sharing your HND information so that we can effectively support your business in the same way throughout 2022 and beyond. Whilst Easter is the next significant seasonal break, 2022 also has an extra bank holiday for the Queen's Platinum Jubilee, plus there is a Winter World Cup.
"By providing your HND information we will be able to safeguard these volumes and be certain you receive the copies you need to capitalise on the fantastic sales opportunities throughout the year."
Do it today: Scan the QR code in the image above or go to mymail.co.uk/HND to secure your store's delivered Mail allocations.