Extinction Rebellion blocks News UK print sites: newsagents left with empty newsstands
3 mins read
By Jack Courtez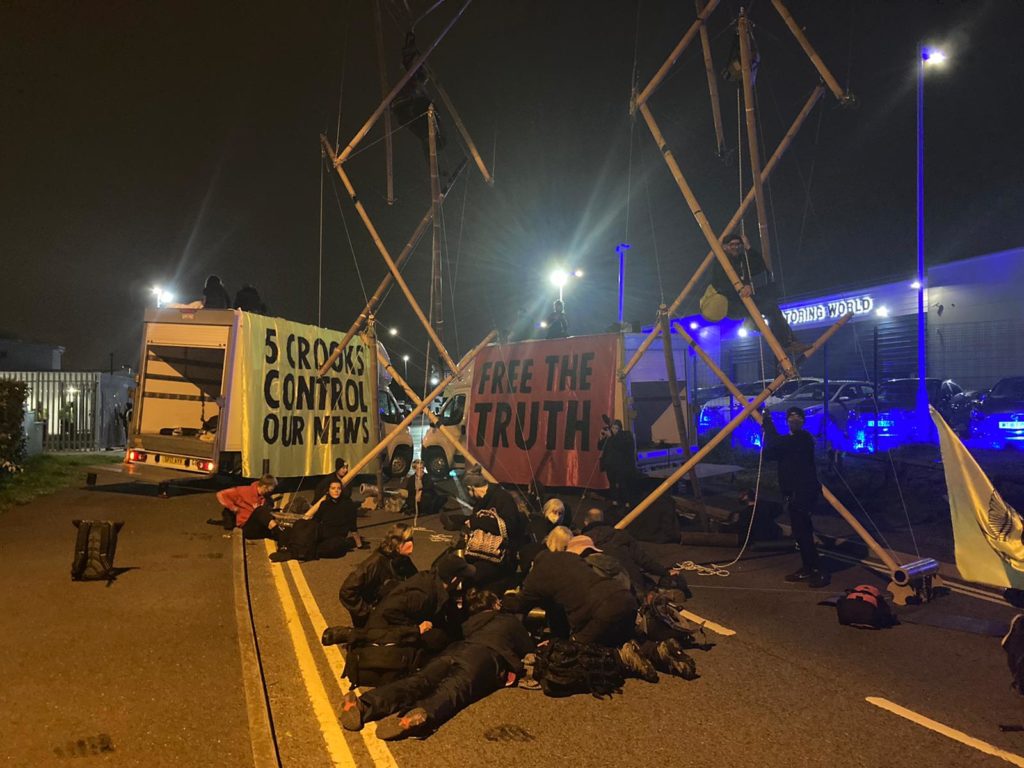 Newsagents across the country were left with empty newsstands on Saturday morning after activists from Extinction Rebellion blocked News UK's print sites.
More than 100 people targeted the publisher's sites at Broxbourne in Hertfordshire, Knowsley in Merseyside and Motherwell in North Lanarkshire.
Newsagents were left without the Mail on Saturday, The Sun, The Times, Financial Times and The Daily Telegraph due to the action. Pre-recorded messages on Menzies Distribution's call centre warned newsagents that papers were not expected until 'between 8am and 12pm'. Smiths News later informed stores in the South West, South Wales, Cambridgeshire and other areas that there would be no supply of the missing titles at all. 
What wholesale depots did not receive supplies?
A source told betterRetailing that the following depots did not receive supply of the Sun, Times, Telegraph or FT: Lincoln and Shrewsbury. Meanwhile Barnstaple, Bodmin, Bristol, Bristol, Exeter, Gloucester, Leicester, Liverpool, Newmarket, Newport, Peterborough, Plymouth, Redruth, Swindon, Taunton and Yeovil did not receive the Sun, Times or Telegraph. Southampton did not receive the Sun or the Times. Worcester didn't receive the Sun or Telegraph. Birmingham, Crawley, Hemel, Lancing, Milton Keynes, Oxford, Stevenage and Stoke did not receive the Telegraph.
A document produced by Menzies and seen by betterRetailing listed the impact at each of its 28 depots. Only Aberdeen reported full supply (green). Ashford, Chester, Eastbourne, Grays, Hull, Maidstone, Norwich, Portsmouth, Rhyl, Ryde, Swansea, Weybridge and York all reported receiving no supply at all of at least one of the three largest titles affected (red). All others were on partial supplies and double runs (amber). It said there had been 'an exceptionally high volume of claims received this morning' and confirmed that customer charges would be 'adjusted' over the next 48 hours to reflect the volumes actually received by stores.
Industry response
NFRN chief operating officer Greg Deacon said the trade group's helpline had received 'an influx" of more than 145 calls on Saturday morning alone from stores left without copies. "It's causing many sales to be lost and customers to be disappointed," he added.
A message from News UK's printers to newsagents seen by betterRetailing said the action would 'penalise' newsagents.
The Sun described the incident as an "attack on all the free press."  It urged readers: "Check back later if your retailer doesn't have a copy."
The impact on stores
Stephen Tate, NFRN northern district president told betterRetailing: "We're still waiting, we've received a lot of phone calls from people awaiting their paper thinking that we were responsible, but we soon explained it and most people were understanding. Shoppers are looking at the empty stands and reluctantly buying the Mirror or The Star instead."
Ralph Patel, owner of the Look Out in Woodmansterne in Surrey said: "Ultimately, we have a responsibility to do our bit for climate change, but that doesn't include damaging people's livelihoods. People should be free to chose what news they read and Extinction Rebellion shouldn't be allowed to interfere with that."
NFRN northern district president and owner of Ashburton News in Newcastle upon Tyne Graeme Pentland described it as "the worst Saturday in a very long time, an absolute nightmare." He said the disrupted titles were only just beginning to arrive when contacted at 9:30am. "We've asked all the paperboys to come back, we'll get them out but it won't be easy."
Michael and Janet Carnall of The Manor Village Stores & Post Office in South Wheatley, Nottinghamshire commented: "We were lucky to get all of our titles today. Five hours late though thanks to Extinction Rebellion. Double the amount of petrol used to deliver over 100 papers. Double delivery from our supplier. What ever they are trying to achieve this has had a massive negative effect on us alone."
Andrew and Coleen Johnson, from the Dafarn Newydd Store in Llanwddyn, Powys said at 12:30pm Saturday: "We have just received the Mail and Times but do not expect to get the Sun or Telegraph. We have had people in who wanted a paper and a browse but no paper equals no sale. These are hard enough times without more hurdles in our path."
The protest group accused the affected newspapers of a "failure to report on the climate and ecological emergency" and "consistent manipulation of truth to suit their own agendas." At least 72 people were arrested in relation to the protests. Hertfordshire police were at the scene of the Broxbourne press to "facilitate the rights of both the protesters and those affected by their presence."