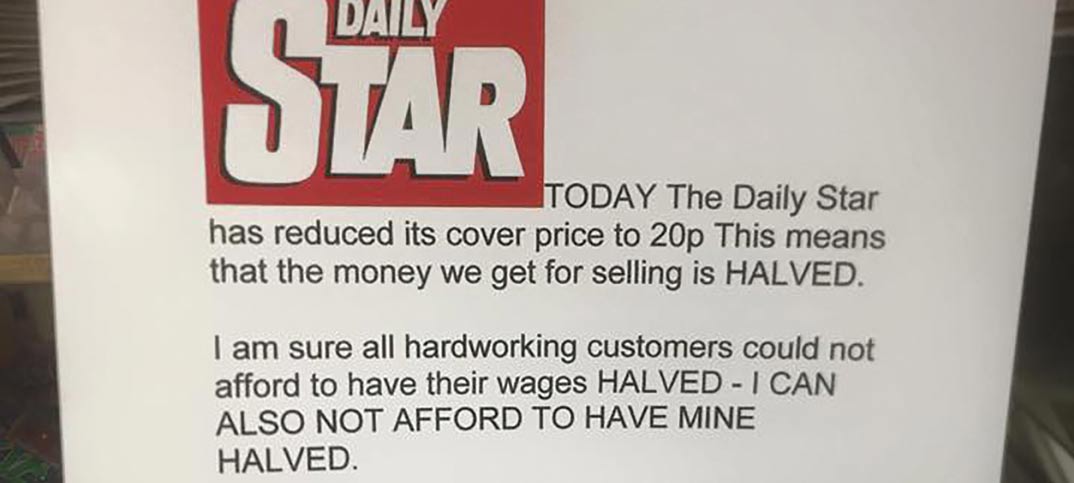 The Daily Star has slashed more than a quarter of a million pounds from retailers' profits in the two weeks since it cut its cover price, according to the latest sales figures.
RN has calculated that by halving its price, the tabloid wiped an estimated £301,000 off retailer margins between 5 October and 18 October.
It has, however, increased sales by an average 39,000 copies per day on weekdays, 53,000 on Saturdays and 66,000 on Sundays – 11%, 15.4% and 13.6% respectively.
This totals 564,000 additional copies sold over the two-week period, generating £33,962 in retailer profit, making the total loss to retailers £267,038, or an average of £5.34 per store.
RN asked the Daily Star's circulation department if the lower cover price was sustainable, considering it would also be costing publisher Northern & Shell hundreds of thousands of pounds, but it declined to comment. It also refused to answer questions on whether the price cut could cause the category to become unprofitable for some stores.
Meanwhile, the Sun and Mirror have both confirmed they are not considering entering into any form of price war with the Star.
News UK independents sales manager Greg Deacon told retailers at the Local Shop Summit last week: "We have no intention of following the Star and devaluing the category. We are committed to working with independent retailers to grow sales and to driving total shop sales."
Mirror Group Newspapers managing director Neil Jagger added: "Our sales haven't been affected by the Star's price cut and we believe our cover prices are appropriate for the intelligent tabloid we produce and our readers value every day."